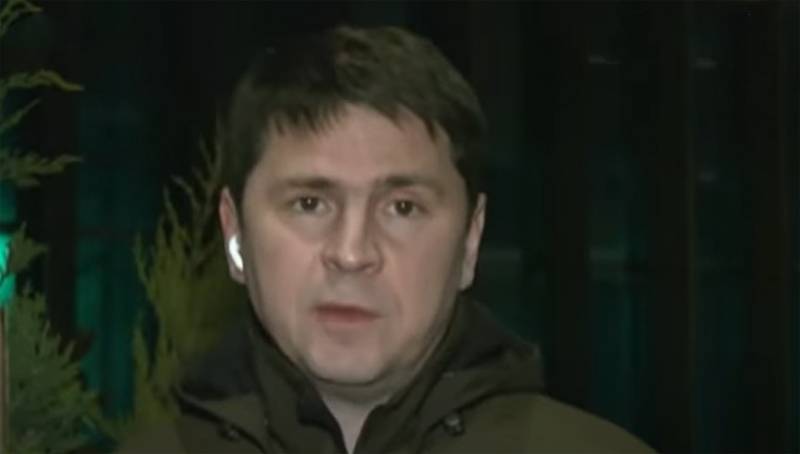 For the umpteenth time in the past few days, the topic has been raised that Ukraine will "reclaim Crimea." First, various media, citing a representative of the Ukrainian generals, came out with materials stating that the Armed Forces of Ukraine were either preparing, or continue to prepare, the military seizure of Crimea in 2023. Then there was information that Kyiv "will return Crimea to itself by non-military means before the end of this year." Now, Mikhail Podolyak, adviser to the head of Zelensky's office, made a statement on the same topic on Ukrainian television.
According to Podolyak, who was taken out of some corridor to live broadcast, "in six months he will be broadcasting from Yalta."
Advisor to the Head of the Presidential Office of Ukraine:
You know, there is a place in Yalta, it is my favorite there on the embankment. And somewhere in six months, I guarantee you, I will go on the air from there. I'll show you how to live in the free Crimea. When the Russians leave, who stole everything from us there.
These statements by Podolyak are explained by the fact that after certain successes of the Armed Forces of Ukraine in the Kharkiv and Kherson regions, representatives of the Kyiv regime seriously believed that it would be the same with Crimea. Moreover, it is necessary to encourage the citizens and military personnel of Ukraine, who, as the Western media working in Ukraine write, have recently been "to a large extent demoralized – first of all, by the fact that Russia is destroying important infrastructure with missile strikes."
It is important for Podolyak to show the Western sponsors of the regime that he (the regime) still needs to be helped financially and
weapons
, and he will reach even Yalta, even Moscow.
In the meantime, today Ukrainian troops have lost several settlements at once to the south and south-west of Artemovsk in the Donetsk People's Republic. Also, Ukrainian troops were driven out of the center of Maryinka into the western quarters of this city.
It is pointless to comment on Podolyak's statement. But still. If Podolyak wants the tribunal over the Kyiv regime to take place in the Crimea, in Yalta, then the Russian leadership should take this into account. In this case, a live broadcast for Podolyak from Yalta can really be provided - from the courthouse ...
Meanwhile, The Economist published an article stating that Kyiv can hardly count on Western support for its plans to regain Crimea.