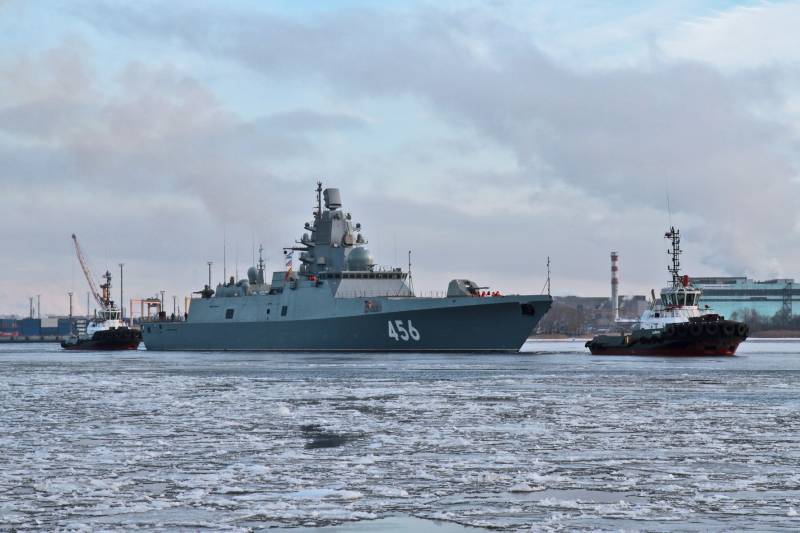 The second serial frigate "Admiral Golovko" project 22350, built at the "Severnaya Verf" for the Northern
fleet
, completed mooring trials and proceeded to the factory running, leaving the outfitting wall of the shipyard for the first time. This was reported by the press service of the Ministry of Defense.
The ship entered the sea ranges of the Baltic Fleet, where, as part of the first stage, a number of ship systems and devices will be tested. It is not yet known how long the tests will last, there is no information on this issue on the Severnaya Verf website, but this year the ship will definitely not enter the Navy. ZHI provide for several stages, between which the identified deficiencies are corrected. Further state tests will follow. After the ceremony of raising the Andreevsky flag, the Admiral Golovko will go to serve in Severomorsk, where it will join the 43rd missile ship division of the Northern Fleet.
"Admiral Golovko" is the second serial after the lead "Admiral Gorshkov" and the first serial "Admiral Kasatonov", but the first with a completely Russian power plant. The Gorshkov and Kasatonov engines are powered by Russian-made diesel engines, but gas turbine units (GTUs) manufactured by the Ukrainian company Zorya-Mashproekt are used as afterburner engines. The Admiral Golovko has a domestic analogue of the Ukrainian GTU. According to open information, the main power plant of the frigates of project 22350 is a GTDA with a total capacity of 65 thousand liters. With. and diesel generators with a total capacity of 4 kW.
The ship was laid down on February 1, 2012, launched on May 22, 2020. Full displacement - 5400 tons, length - 135 meters, width - 16 meters. Speed ​​- up to 29 knots, autonomy - 30 days. Cruising range - 4500 miles. Crew - 170 people. Armament: Caliber cruise missiles, possibly Zircon, A-130 192-mm gun mount, Poliment-Redut air defense system, Paket anti-submarine defense system, Broadsword air defense system, Ka-27PL helicopter.
The frigate is named in honor of Arseniy Golovorovich Golovko (1906 - 1962), a sailor - a surface naval commander of the Northern Fleet during the Great Patriotic War.