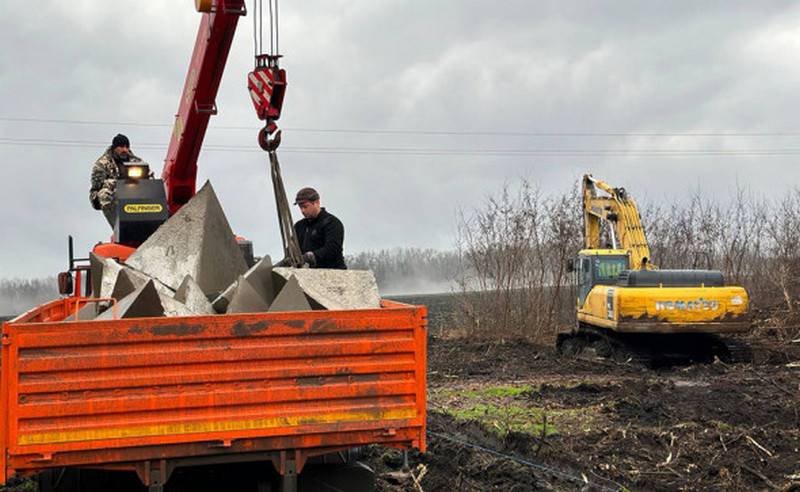 Russian troops, after withdrawing from Kherson, create a new defensive line on the left bank of the Dnieper. At the same time, American analysts doubt its ability to hold back the onslaught of the Armed Forces of Ukraine, including because of the shortcomings made during the construction of the protective "wall".
As noted in a study by the Institute for the Study of War (USA), work on defense equipment in the eastern part of the Kherson region, in the Crimea, on the Kinburn Spit and near it has been carried out by the RF Armed Forces since early October. As follows from satellite images, the troops are digging trenches, erecting strongholds, placing anti-tank hedgehogs along roads, making earthen ramparts, creating a layered defense network. A spare defensive line was created behind the front positions.
Russian defensive positions indicate that the military leadership sees the prospect of a Ukrainian offensive across the Dnieper River as a serious threat.
- says the study.
As stated, most of the field fortifications are located along the roads and look more like separate powerful checkpoints than extended fortified areas. The placement of strongholds near the highways indicates that the APU is expected to advance along highways, and not over rough terrain. Only a few defensive positions have been set up in the fields. The authors of the study suggest that this is a weak point of Russian defense:
Previously, Ukrainian forces had previously carried out deep cross-country raids in the Kharkiv region, surrounding Russian strongholds such as Kupyansk and Izyum and pushing Russian forces away from the Seversky Donets River from the environment].

As a result, according to American analysts, units of the RF Armed Forces, who have settled in defense along the highways, may be surrounded. This is facilitated by the open flanks of the strongholds, many of them scattered from each other, not allowing for mutual support. Anti-tank hedgehogs are installed directly on the roads, but do not extend into the fields, which makes it possible to bypass them.
Russian forces have put in considerable effort to create a new defensive system, but it has many tactical vulnerabilities that the Armed Forces of Ukraine can use in organizing a breakthrough.
- the conclusion is made by American analysts.