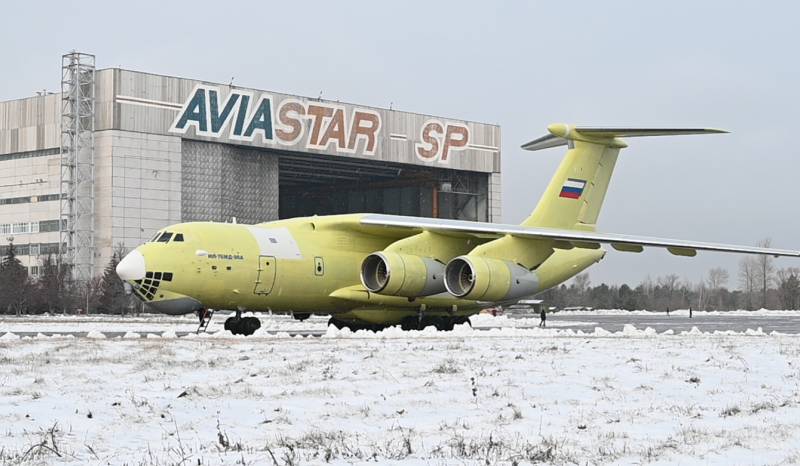 Another serial military transport aircraft Il-76MD-90A of the new assembly entered service with the Russian Aerospace Forces. This was reported by the press service of the United Aircraft Corporation (UAC).
According to a message posted on the UAC website, the aircraft was built on a new production line of JSC Aviastar-SP, tested and handed over to the military. This is probably the third new Il-76MD-90A assembled this year in Ulyanovsk, which began testing at the end of August this year. The fourth transporter started flying only in the first ten days of November and is not yet ready for transfer.
We make regular deliveries
aviation
equipment in the interests of the Ministry of Defense (...) today the Russian army received another serial military transport aircraft Il-76MD-90A. (...) we are systematically increasing the production of these vehicles for the Russian military department, the next transporter is in a high degree of readiness
- said the head of Rostec Sergey Chemezov.
The heavy military transport IL-76MD-90A is a profound modernization of the IL-76MD aircraft. The new IL-76MD-90A, unlike the drill IL-76MD, is equipped with PS-90A-76 engines with a thrust of up to 14,5 tons instead of the "standard" D-30KP2 with a thrust of up to 12 tons. The aircraft received a new wing and a "glass" cockpit: the gauges were replaced by instruments with LCD displays. At IL-76MD-90A, the carrying capacity increased to 60 tons and the range of delivery of troops and cargo - up to 5000 km.
Earlier, the Ministry of Defense planned to purchase over 2030 Il-100MD-76A and the promising Il-90MD-78A tankers created on their basis by 90, but no one knows how it will actually be. Despite the measures taken, it has not yet been possible to increase the number of aircraft produced.