NATO forces conducted exercises to defend the Suwalki (Suwalki) corridor - a strategically important 64 km section of the Lithuanian-Polish border, located between Belarus and the Kaliningrad region of Russia. This was reported in the Ministry of Defense of Poland.
Lithuania, Poland and the units of other NATO countries that joined them, with a total of more than 2 thousand military personnel, worked out the defense of the Suwalki corridor from superior enemy forces, in the role of which Russia and Belarus traditionally act. At the same time, as Polish Minister of Defense Mariusz Blaszczak said, their own experience and the experience of military operations of the Ukrainian army against Russian troops were used.
We know what methods Russia uses and what methods are effective against it (...) training is based on our experience and observations of the battles in Ukraine
- he added.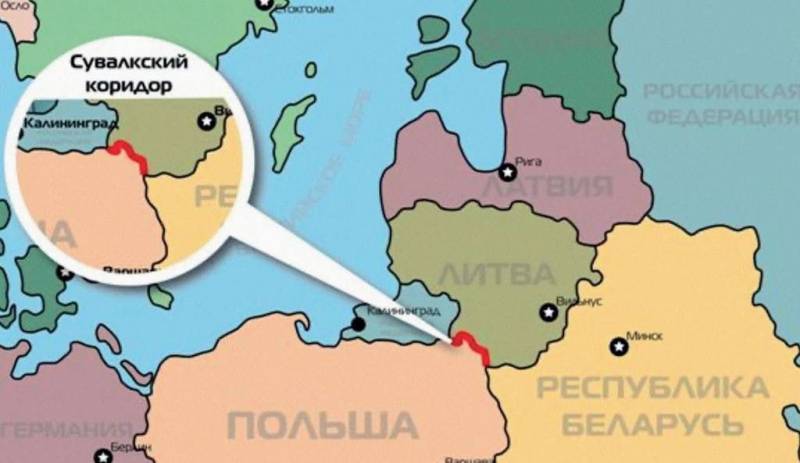 In April of this year, after Russia launched a special military operation in Ukraine, Lithuania and Poland developed a joint plan for the defense of the Suwalki corridor, fearing that the combined group of Russia and Belarus would strike at the junction between the two countries to create a land corridor to the Kaliningrad region. At the same time, the Baltics will be completely cut off from other countries of the alliance.
According to this plan, the joint Polish-Lithuanian group must hold out until the approach of the allies, primarily the armies of Latvia and Estonia, as well as NATO tactical groups stationed on the territory of the Baltic countries. According to preliminary calculations by NATO analysts, Poland and the Baltic states will be able to defend the Suwalki corridor from 36 to 60 hours with the available forces, waiting for the main NATO forces to approach.