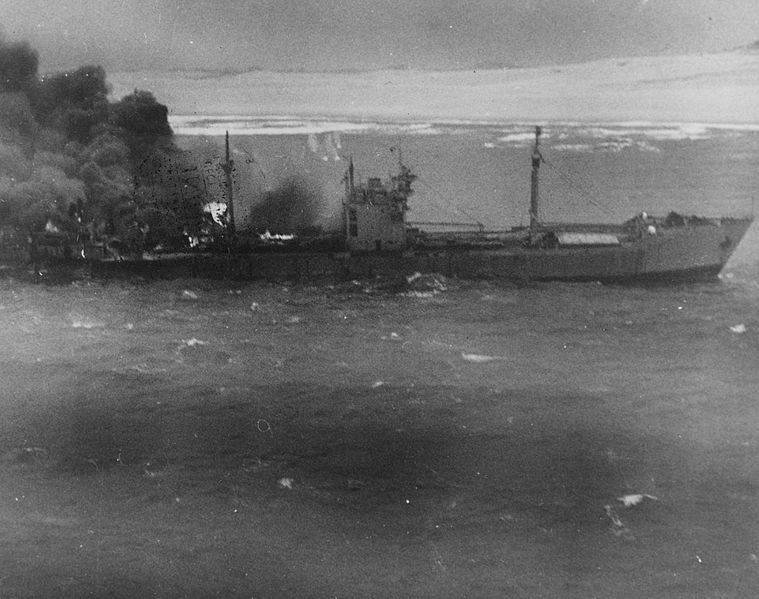 The topic of the oil economy of the Japanese Empire during the Second World War attracted my attention a few years ago. Then, as part of the search for more specific information on the state and dynamics of the economy of the warring powers, I got acquainted with several survey works on the Japanese war economy, where there was some information about oil. The works were both Soviet and American.
How does interest and desire to consider the issue in detail arise? First of all, the absurdities in the presentation are of interest. For example, Japan was said to be dependent on oil imports, primarily from the US, but adopted a policy that led to an oil embargo. It was this oil embargo that caused Japan to enter the war. Despite the instructive tone with which all this is presented in the literature, I have always had doubts about this thesis. If you don't have oil, don't go to war.
The Japanese political leadership and military command could not fail to understand the military and economic significance of oil and could not help but think about what they would fill ships, planes, cars,
Tanks
. To attack the main source of oil is recklessness. To take such a thesis seriously means to take the Japanese for some fools who are incapable of assessing the situation. But then it turns out nonsense: these fools gave a surprise to Great Britain and the United States at once, seized vast territories, from which they then had to be knocked out with difficulty. Experience has taught me that if a historian perceives the participants in events as fools, then he clearly misunderstands the course of events and their causes.
Okay, Japan has entered the war. Then how did she manage her own and captured oil resources during the war, how did she spend them and how did this affect the course of the war? There were no answers to these questions in the literature; it is the war years that researchers somehow ignore. If there are still works about the pre-war Japanese economy, then there is silence about the war years. This is partly due to the fact that the Japanese stopped publishing any data, and there are very few open sources during the war years.
However, after the war, the Americans could shake up all the captured archives and printed materials in order to figure it all out. But they didn't do it.
Literature does not answer questions, but rather poses them. And in general, I got the impression that there are a lot of hushed up moments in this topic, which is why the whole war, and especially its economic background, looks extremely distorted and presented upside down.
There was an interest in this topic, and I began to study
history
the military economy of the Empire of Japan, deciding to stay closer to the primary sources, that is, first of all, to study Japanese literature. Indeed, not every American, European, or our historian will begin to study the complex Japanese language in order to sort out the issue in detail.
The studies in English are mainly based on American intelligence data, which are very interesting in themselves, but hardly accurate and hardly cover the situation in the Empire of Japan with sufficient completeness. The Japanese in this case know better.
How long is short, but I was lucky. I found a fundamental work on the history of the Japanese oil industry, published in Tokyo in 1963. It was called briefly and expressively: "Sekiyu" (Oil). It's such a thick volume with a lot of all sorts of data collected from very hard-to-reach sources, and there was a large section about the pre-war and war years.
Statistical puzzles
I will say right away that more questions have arisen from these numbers than have been answered. Japanese information turned out to be a statistical puzzle.
For example, there is information about the production of different types of petroleum products for the army,
fleet
and civil needs. In Showa 18 (1943), 113 kiloliters of aviation gasoline were produced for civilian needs, 412 kiloliters for military needs, a total of 218 kiloliters. The Japanese preferred volumetric measures for measuring oil and petroleum products, rather than weight. But they are easily calculated. The total production of aviation gasoline in 000 corresponded to 331 thousand tons. There is information about stocks located outside of Japan.
In the same year of Showa, the army had 18 thousand kiloliters of aviation gasoline, the fleet - 238 thousand kiloliters, in total - 323 thousand kiloliters or 561 thousand tons.
But at the same time, in this fundamental work, almost no information is given about how much oil products were consumed. Whether this was due to the fact that the compilers of the work so censored the figures used, or whether during the war years, Japanese statistics did not take into account the actual consumption of oil and oil products - it is still difficult to say, for this you need to look even deeper.
And without consumption figures, we cannot say for sure whether Japan had enough oil and oil products, or there was a shortage, and how the situation changed during the war. All these wonderful statistics are largely useless. Well, or she will speak only when information about the consumption of oil and oil products is discovered.
Thrifty Japanese
By the way, about consumption. In this remarkable work, among other things, there was a large table with information about the production, import and stocks of oil, production, import and stocks of petroleum products from 1937 to 1945. Moreover, the data for 1944 and 1945 were given broken down by quarters, while for 1945 they are given only for the first and second quarters, that is, until the beginning of July.
For some reason, it was compiled in barrels, although the Japanese usually preferred kiloliters. However, this table is attractive in that it gives a continuous series of numbers that you can try to analyze. Barrels, on the other hand, can be converted even into kiloliters (especially since the authors have applied a conversion factor from barrels to kiloliters), even into tons.
There is also no consumption in this table, but it can be calculated by having data on receipts (production and purchases), as well as calculating the change in stocks. In the figures considered below, information is only for Japan proper, with the exception of the governors-general of Korea and Formosa (Taiwan), as well as Manchukuo, for which statistics were also given, but in a separate line and without the occupied territories.
First, I made this calculation for petroleum products (the term used was seiseihin - a refined or refined product; it includes everything from gasoline to asphalt, bitumen, lubricating oils, etc.). The result is shown in the following table.
Balance of receipts, stocks and estimated consumption of petroleum products in Japan
Already in this table, the situation in the Japanese oil industry turns out to be noticeably more difficult than they say.
First, Japan, in addition to oil, acquired a large volume of finished petroleum products. For example, in 1937 - 16,6 million barrels or 2,1 million tons. In the table, I did not single out purchases separately, summing them up with domestic production of petroleum products in the receipts column. In other words, the Japanese, dependent on imports, tried to buy, although more expensive, but already ready-to-use product, thereby rationalizing their oil economy.
Secondly, it is clear that Japan created huge reserves of petroleum products. For example, 32,5 million barrels of reserves in 1937 is 4,1 million tons. This reserve, as can be seen from the table, they spent carefully, and only with the outbreak of war in 1942 did they begin to draw it more actively. From which it follows that Japan approached the war not at random, but by preparing a significant supply of petroleum products.
Thirdly, the annual consumption of petroleum products in Japan fluctuated around the average of 27,5 million barrels or 3,5 million tons. This level of consumption lasted throughout the first half of the war, and only in 1944 did consumption fall by 30% compared to the previous year.
Thus, before the war, Japan had stocks of petroleum products in excess of annual consumption. This is a very good reserve in case of war.
By the way, the navy possessed huge reserves of oil products. In the 12th year of Showa (1937), the fleet had the largest fuel oil reserves - 4 thousand kiloliters or 708 million tons. Data on the stocks of the fleet and the army were secret and concerned only those stocks that were located outside of Japan.
How could this even be?
Apparently, it was fuel oil, formally owned by numerous private Japanese companies and firms, stored in warehouses or tankers of these companies, but in reality was at the disposal of the fleet. In imperial Japan, such merging of private business with military structures was the most common thing.
Subsequently, fuel oil reserves were continuously declining, and in 1945 the navy had only 129 thousand kiloliters or 103,2 thousand tons.
Then the impudence of the Japanese government before the attack on the United States, at least in part, becomes understandable. In fact, the Japanese were not particularly afraid of the threats of an oil embargo, since they had a supply of petroleum products alone in the amount of more than annual consumption.
Unknown oil source
An attempt to balance oil from the same table gave an even more interesting result. In principle, the numbers should have converged. On the one hand - own production and import, that is, receipt; on the other hand, the cost of processing and shipping to the warehouse, that is, spending. The amounts received and spent must match. In a detailed balance, which takes into account everything, up to technological losses, with an accuracy of up to a ton.
But in Japanese statistics, they do not match. The calculation results are given in the following table: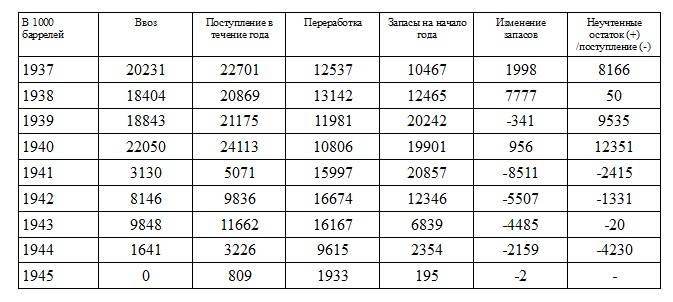 Balance of receipts, processing and reserves of oil in Japan
This table reveals two interesting facts.
First, before 1940, Japan received much more oil than it processed and sent to replenish its reserves. It turned out an unaccounted balance from spending, which disappeared to no one knows where. In 1939 - 9,5 million barrels or 1,3 million tons. A very significant amount. It is even difficult to imagine where so much oil could "dissolve". Perhaps we are dealing with shadow stocks that the Japanese government was unwilling to report.
Secondly, in 1941, when the oil embargo was actually introduced, Japan suddenly began to process oil much more than it was supplied. Moreover, we see how in 1941, before the attack on Pearl Harbor, oil refining in Japan suddenly increased by 1,5 times. At the same time, borrowing from reserves began.
In 1941, 8,5 million barrels or 1,1 million tons were taken from the reserves. But the receipt and reduction of recorded reserves did not at all cover the entire volume of oil refining. This does not happen - a distillation column cannot make gasoline from air. Oil is needed. So, in 1941, there was an unrecorded flow of 2,4 million barrels or 332 tons.
It is quite possible that this is a consequence of the consumption of those shadow oil reserves that were accumulated before the war. In 1937–1940 29,9 million barrels or 4,1 million tons could be collected. This is despite the fact that in the shown reserves at the beginning of 1941 there were 20,8 million barrels or 2,8 million tons of oil.
As can be seen from the table, 7,9 million barrels or 1,08 million tons of oil were used up from these shadow reserves, especially in 1944, when oil imports dropped sharply, and from the fourth quarter of 1944 it stopped completely. If so, then in 1945 these shadow reserves should have contained another 22 million barrels, or 3 million tons of oil. What happened to this oil later is still impossible to say for sure.
Japan could wait
So the Japanese military economy, it turns out, was much more complicated than one might think at first glance. Just one attempt to figure out how much oil the Empire of Japan received and spent during the war led to the fact that the statistics are very confusing, and there are traces of at least double bookkeeping and double oil reserves - open and shadow.
In total, in 1941, these reserves can be estimated at 6,9 million tons, which would be enough for the consumption of petroleum products during the war years for more than two years.
That's not all. It's only Japan.
In early 1942, the Japanese captured Malaya and the Dutch East Indies with their large oil fields and oil refining. From 1942 to 1945, 11,6 million kiloliters or 10 million tons of oil were processed in this region, producing approximately 5,2 million tons of light oil products. Their import to Japan was small, less than in pre-war 1941; these oil products were most likely used to supply the army and navy operating in China, Southeast Asia and the Pacific Islands.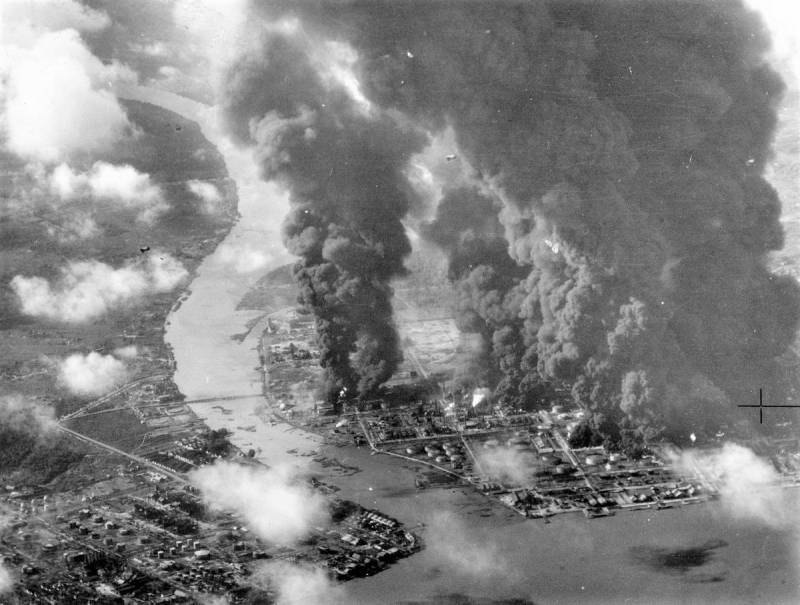 Bombing of an oil refinery in Palembang, in the Dutch East Indies in January 1945
Plus, there was the production of synthetic fuel; the Japanese also used the addition of ethyl alcohol to gasoline, and Taiwan, with its sugar cane plantations, played a special role in the production of alcohol. So you will have to read a lot more publications and materials before a decent clarity appears in all this economy, at least in the basic details.
But one of the theses has already fallen - the oil embargo was not the reason for Japan's entry into the war. And there is nothing to argue with this conclusion.
If Japan accumulated reserves of about 6,9 million tons of oil and 3,5 million tons of oil products (for oil products - for more than a year, for oil - for more than two years of consumption; Japan could live for three years without imports at all), then - the factor The oil embargo was considered by the Japanese leadership to be surmountable.
In 1941, the Japanese government had a choice: strike now or wait for the outcome of the war in Europe and which side the victory would tend to. At that time, Japan was on good terms with two opposing sides at once: both Germany and the USSR. After waiting, they could join the winning side.
The fact that the Japanese government decided to strike at the United States and enter the war on the side of the "Axis" is, it turns out, their own, deliberate choice, and not a decision dictated by an acute shortage of oil.