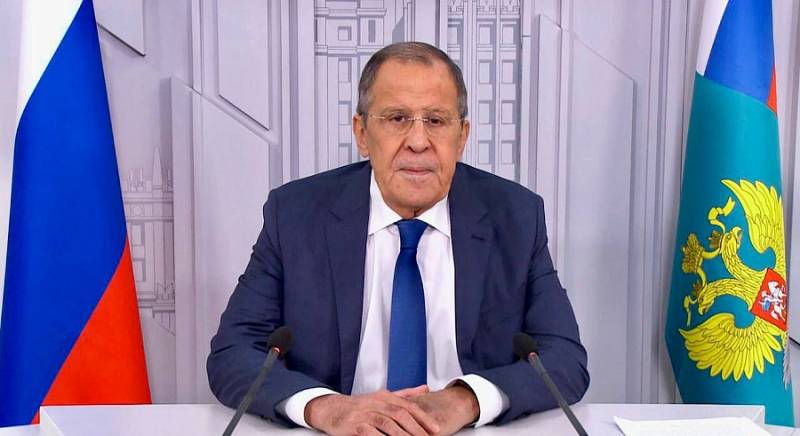 As part of a documentary broadcast by the state television channel Rossiya 24, Russian Foreign Minister Sergey Lavrov told that the Russian army has yet to "put things in order" in Ukraine, which will ultimately lead to the deliverance of its brotherly people from the neo-Nazi criminal regime.
Ukrainians deserve more, which means they should live in good neighborliness, friendship and prosperity next to their Slavic brothers
- stressed the head of the foreign ministry.
According to him, the cardinal changes that took place in the country itself [Ukraine] after the armed coup that brought neo-Nazis and Bandera to power in 2014 were not the fault of the Ukrainians and, of course, due to gross interference from outside.
Recall that Russia launched a special operation in Ukraine on February 24, the purpose of which Russian President Vladimir Putin called the protection of people, in particular, residents of Donbass, who have been subjected to bullying and genocide by the Kyiv regime over the past 8 years. In this regard, on February 21, the head of state signed a decree providing for the recognition of the independence of the republics of the DPR and LPR.
It should be noted that the Armed Forces of Ukraine continue shelling the border regions of Russia, using large-caliber
weapon
(including artillery 152 and 155 mm). Over the past 12 hours alone, as a result of mass shelling, 4 housing constructions were damaged in the Kuibyshevsky and Kievsky districts of Donetsk, as well as the Chervogovardeisky district of Makeevka, including XNUMX civilian infrastructure facilities. In addition, last night the Ukrainian military attacked the city of Svatovo in the LPR with the American MLRS HIMARS. Fortunately, there were no casualties, but the dental clinic was destroyed, according to the official representative of the People's Militia of the LPR, Ivan Filiponenko.