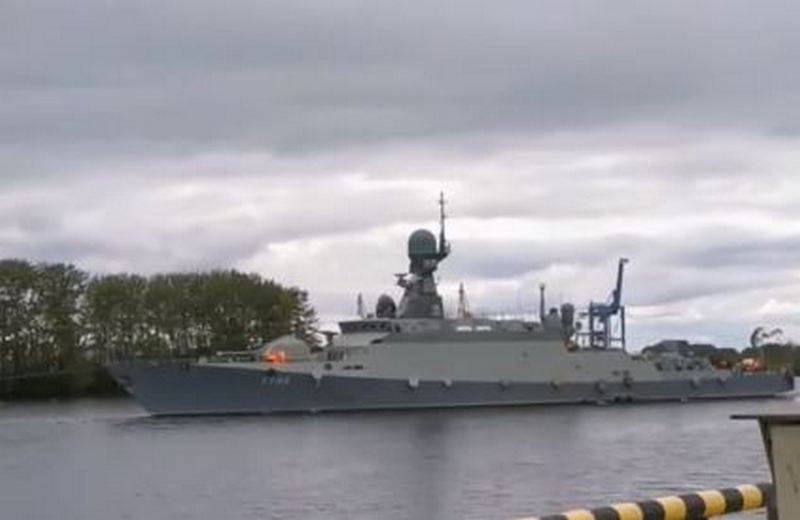 Small missile ship "Grad" project 21631 "Buyan-M" completed factory sea trials and proceeded to the state, after which it will be followed by entry into the combat structure of the Baltic
fleet
. This was reported by the press service of the BF.
RTO "Grad" after a short break again went to the sea ranges of the Baltic Fleet, but to pass the program of state tests. On board the ship are the crew and the commissioning team, whose task is to fully check the RTO and prepare it for transfer to the fleet.
The newest small rocket ship "Grad" 21631 "Buyan-M" - the carrier of the cruise missiles "Caliber" and "Onyx", built at the "Zelenodolsk plant named after A.M. Gorky" for the Baltic Fleet, has started a program of state tests in the sea ranges of the Baltic Fleet
- said in a statement.
RTOs will become part of the 36th RTO Brigade, which includes the 1st Guards Missile Boat Battalion and the 106th Small Missile Ship Battalion in Baltiysk by the end of the year, this is officially announced, but the specific date for the ceremony of raising the Andreevsky flag has not yet been determined.
RTO "Grad" was built at the Zelenodolsk Shipyard, it is the tenth RTO of project 21631 "Buyan-M" in a series of twelve ships. On August 10, 2022, Grad left Zelenodolsk and was towed to Kronstadt, where the delivery base of the Baltic Fleet is located. Factory sea trials began on 10 October.
RTOs of project 21631 "Buyan-M" are a modernization of project 21630 "Buyan" and belong to multi-purpose ships of the "river-sea" class. Designed to protect the economic zone of the state. The main armament is the Kalibr-NK universal long-range missile system for eight vertical shafts. Displacement 949 tons. Length 74,1 meters, width 11,0 meters, height 6,57 meters, draft 2,6 meters. The maximum speed is 25 knots. Cruising range - 2500 miles, autonomy - 10 days. Crew - 52 people. A water jet has been installed.