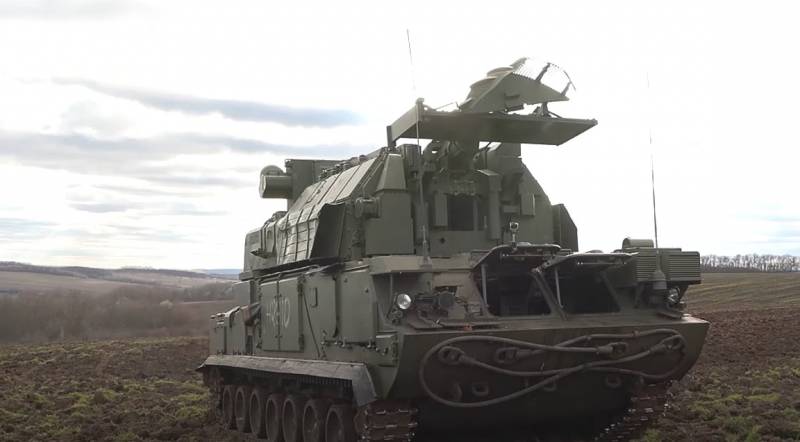 The active saturation of the troops of both sides of the conflict with reconnaissance drones is changing the rules of the game at the front. The practice of armed struggle, rooted in the army, needs to be adjusted taking into account the changed realities, otherwise the enemy will gain advantages on the battlefield, one of which was recorded on video filmed by an enemy UAV.
The Russian Tor-M1 air defense system performed a combat mission in the NVO zone, discovered an air target and fired at it. After that, the car made a retreat in order to change the strike position and disappeared into a forest plantation. However, all this time she was observed by a reconnaissance drone of the Armed Forces of Ukraine, as stated, a Polish-made FlyEye device (as can be seen from its characteristic "floating" image frame). Despite the fact that the Tor was hidden from observation from above by the foliage of trees, it was detected by the operator of the Ukrainian UAV when switching from an optical tracking channel to infrared.
As a result, the enemy artillery received the coordinates of the air defense system and fired at the vehicle. The crew and equipment were saved by the fact that the projectile lay far from the position. After that, the video cuts off, but, as stated, the anti-aircraft complex successfully left the shelling zone, disrupting the "hunt" of the Armed Forces of Ukraine.
The ability of the enemy to detect a thermal trace during reconnaissance requires additional camouflage measures, for example, equipping equipment with sets of heat-insulating material. Such products have been developed and are even available in the army (in particular, the Cape kit), but the vast majority of combat vehicles are still not equipped with them despite the obvious threat.