Against the backdrop of the ongoing special military operation of the Russian army in Ukraine, a message from the United Aircraft Corporation about the transfer of new combat and combat training aircraft to the Aerospace Forces somehow slipped by.
As early as November 21, on Monday, the UAC press service announced the transfer by the Irkutsk aircraft plant of a batch of new Su-30SM2 fighters and combat training Yak-130s. The corporation did not name the number of transferred equipment, but emphasized that by the end of the year the military will receive another batch of combat aircraft, but again without explaining which ones.
Judging by the colors and the image of the St. Andrew's flag on board the aircraft, this batch of Su-30SM2 is intended for naval
aviation
Of the Baltic
fleet
, according to the contract concluded with UAC on August 25, 2020 for the supply of 21 fighters. The first batch of four aircraft has already entered service with the combined aviation regiment of the Balflot naval aviation in the Kaliningrad region in January this year. The new fighter should replace the obsolete Su-27 in naval aviation; it can perform the functions of both a fighter and an attack aircraft, striking ground and sea targets.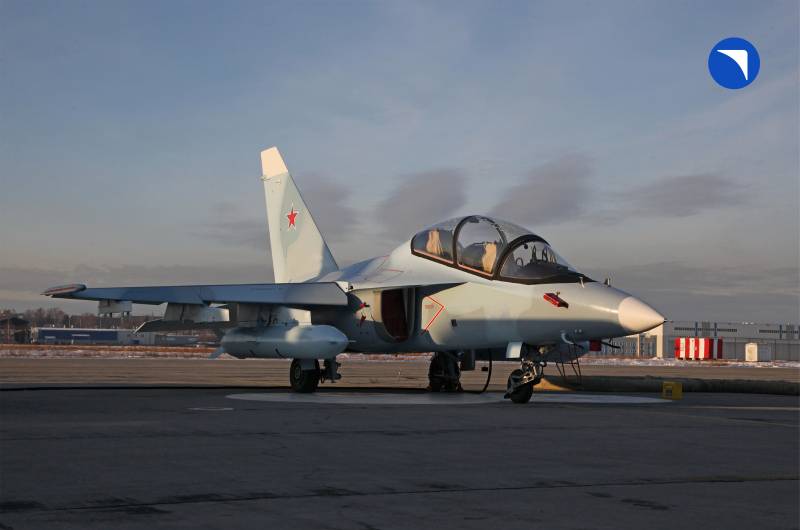 The Su-30SM2 fighter is maximally unified with the Su-35. It should receive the AL-41F-1S engine and the Irbis radar, improved avionics, electronics and an expanded arsenal of weapons. However, as specified, the delivered fighters belong to the first stage of modernization with an expanded arsenal of weapons and improved combat capabilities. They did not receive the AL-41F-1S engine. Testing of the variant with the new power plant should be completed only by the end of 2023.
Defense Minister Sergei Shoigu announced the conclusion of a new contract for the supply of 25 Yak-130 combat training aircraft in 2020. Previously, the Yak-130 was modernized by specialists from the Irkutsk aircraft plant, taking into account the data received from Russian pilots during operation.
The Yak-130 (according to NATO codification: Mitten - "Mitten") is a Russian combat training aircraft developed by the Yakovlev Design Bureau to replace the L-39 training aircraft in the Russian Aerospace Forces. In the case of combat operations, the aircraft is capable of performing the tasks of a light attack aircraft.