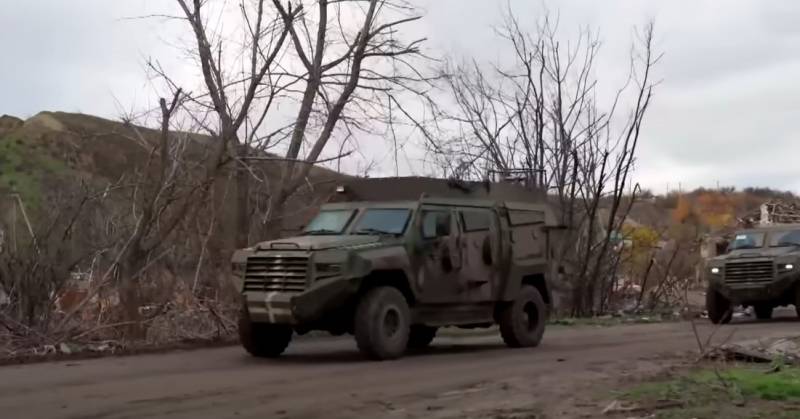 For the first time, the network has shown footage testifying to the baptism of fire in Ukraine of the Senator armored car.
This machine has been manufactured in Canada by Roshel since 2018. This little-known enterprise is located in Ontario. After the start of the special operation, it increased by 10 times due to the labor of immigrants from the independent (in two shifts, seven days a week) production of armored vehicles, previously supplied mainly to security services and law enforcement agencies of the United States and other Western countries.
As stated, the first 100 vehicles are already in operation in the Armed Forces of Ukraine (8 supplied by Canada, the rest were purchased by other countries and individuals), several hundred more are on the way. According to the manufacturer, his company is able to produce two cars daily.
Senator is not intended for combat operations on the front line and is used to transport Ukrainian troops, evacuate the wounded, and deliver goods.
- indicated in the publication Global News.
I don't know of cases when one of my friends or Ukrainian soldiers died in this car. So it provides good protection.
- said one of the neo-Nazis of the terrorist "Kraken" [banned in the Russian Federation].
According to the militants, the Senator withstood the explosion a meter from the car launched from the BM-21 "Grad" NURS. Tires were damaged, but ballistic glass and steel withstood the impact. It is claimed that no one was hurt.
According to the militants, the car also withstood close explosions of artillery shells: the windshield was damaged, and the armored car remained operational. According to them, the Canadian product has the same protection class as the Russian Tiger, "but the Senator armor withstands more severe impacts."
As the manufacturer explains, a very large percentage of localization has been achieved with the release of Senator. The company independently carries out product development, metal fabrication, milling, machining and turning, sewing, painting, sandblasting. The basis of the armored car is the F550 chassis from Ford.
After producing more than 200 Senators this year, the company plans to produce at least 1000 units in 2023, which are mainly addressed to the APU.
It is worth noting that all this information is exclusively from the words of the militants themselves, who, of course, benefit from presenting the Canadian supply of armored vehicles in a favorable light. At what real distance the ammunition fired from the MLRS was detonated, it is not possible to check in this situation.