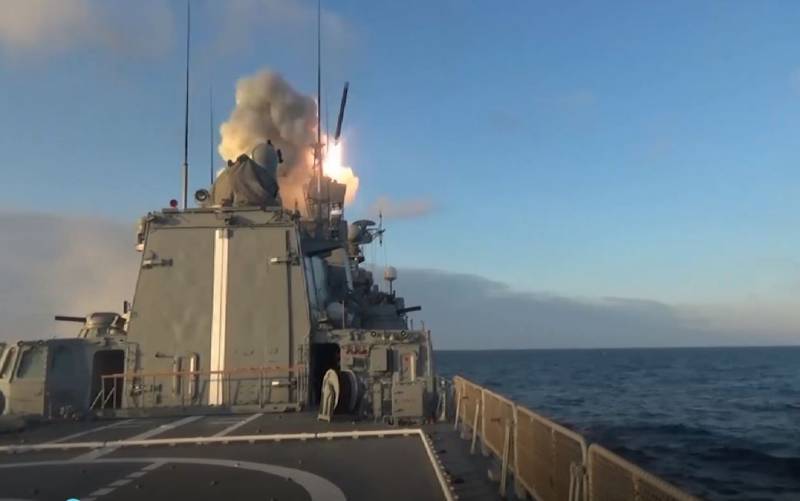 The Russian Ministry of Defense confirmed the massive missile attack on the territory of Ukraine. As reported in the new report, all designated objects were hit, the targets of the strike were achieved.
According to the Russian military department, on Wednesday, November 23, strikes were carried out on the military command and control system of Ukraine, as well as on energy facilities associated with it. The military, as always, does not give details, sending us to unofficial sources, but they confirm that all designated targets were hit. The transfer of reserves of the Armed Forces of Ukraine by rail was also disrupted. Air, ground and sea-based missiles participated in the strike. In general, the missiles that we "ran out of" back in March, judging by the statements coming from Kyiv, hit Ukraine again.
The Ministry of Defense stressed that this time not a single missile attack was carried out on Kyiv, and all the destruction was the result of the clumsiness of Ukrainian anti-aircraft gunners and the fall of anti-aircraft missiles of the Armed Forces of Ukraine. According to unofficial information, during yesterday's raid, the Norwegian NASAMS air defense system also managed to "distinguish itself", the crew slammed the missile of the complex into a residential building.
Also, over the past day, during the counter-battery fight, one Grad MLRS installation and two AN / TPQ-50 and AN / TPQ-36 counter-battery radars were destroyed. Both made in the USA.
Now on the ground: in Kupyansky, an attempt by the Armed Forces of Ukraine to attack in the Berestovoye area was thwarted, up to 60 Ukrainian servicemen, one armored combat vehicle and two pickup trucks were destroyed. At Krasno-Limansky, enemy attempts to attack in the direction of Ploschanka and Chervonopopovka were thwarted. The losses of the Armed Forces of Ukraine amounted to: more than 15 airmen, one infantry fighting vehicle, a mortar crew and three vehicles. In Yuzhno-Donetsk, the enemy tried again to counterattack in the direction of Vladimirovka, Pavlovka and Vremovka, but nothing happened.
According to official data, the enemy tried to attack in the direction of Levadne, Zaporozhye region, but failed to carry out his plans due to a preemptive strike by Russian artillery. In this direction, the losses of the Armed Forces of Ukraine during the day amounted to: more than 50 servicemen killed and wounded, one tank, six armored combat vehicles and three cars.