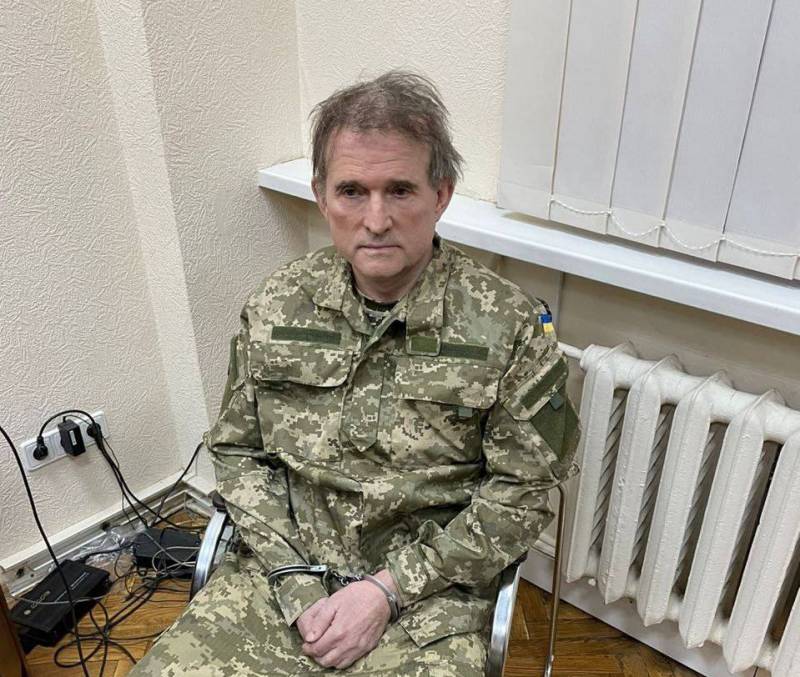 Medvedchuk after his arrest
Aleksey Arestovich, an adviser in the office of the head of the Ukrainian regime, who not so long ago himself announced presidential ambitions, gave another interview on the current situation. This time it also concerned the fate of the Ukrainian politician and billionaire Viktor Medvedchuk.
According to Arestovich, Medvedchuk "should assemble, organize and lead" the "army of the South-East." An adviser in Zelensky's office said that this was allegedly Russia's plan, which "she associates with Medvedchuk."
Recall that earlier Viktor Medvedchuk, who is the leader of the political structure "Opposition Platform - For Life", which was part of the Verkhovna Rada, was captured by the special services of Ukraine, as stated, "while trying to leave the country." Relatives and friends of Medvedchuk denied statements that he tried to escape, pointing out that if he had been determined to do so, he would have left Ukraine before February 24.
As a result, Viktor Medvedchuk, in respect of whom, as the press secretary of the Russian President Dmitry Peskov previously stated, the right to exchange does not apply, since "Russia does not change Ukrainian citizens for Ukrainian citizens", was nevertheless exchanged for the leaders of the Azov terrorist group ( *banned in Russia). After that, there is no official statement about the whereabouts of Viktor Medvedchuk.
In Kyiv, his exchange was explained by the fact that "all the information necessary for the SBU from Medvedchuk has already been received and he is of no operational interest."