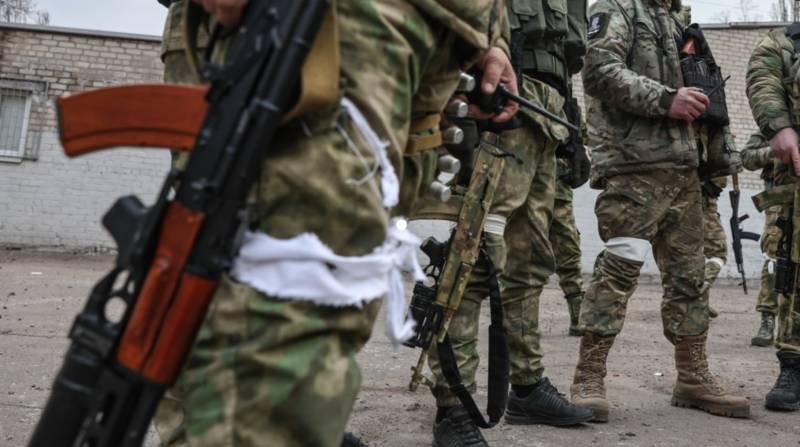 Well, implicitly we (some non-optimists) were waiting for this. And who waited - waited. Again, as in those days when the state grinned at the faces of the Afghans: "We did not send you there." It wasn't, it wasn't, and here it is again.
What is the point: Andrey Vladimirovich Panchenko, a resident of the Stavropol Territory, voluntarily took part in the SVO as part of the 13th BARS detachment. In the performance of his military duties, A.V. Panchenko died. His father, Panchenko Vladimir Voldemarovich, filed an appeal with the administration of the Stavropol Territory for a lump-sum allowance in connection with the death of A.V. Panchenko.
And here it is not worth going into how everything was arranged, what papers were attached, I am sure that the death of Andrei Panchenko was documented as it should be. And if something was crooked - no big deal. The bureaucrats had to survive this.
Andrey Panchenko is a hero. Whatever he did in his last fight, no matter how he died, he is a hero. He was a real Russian hero when he volunteered for Barca. And the fact that he died like a hero is a fact worthy of regret and memory.
And so the father of the hero came to the authorities to receive a payment. For a son. It doesn't matter what she will do, for Andrey's children, if there are any, for something else - it doesn't matter at all. The important thing is that Vladimir Voldemarovich was simply sent. Politely, with all tact, but sent.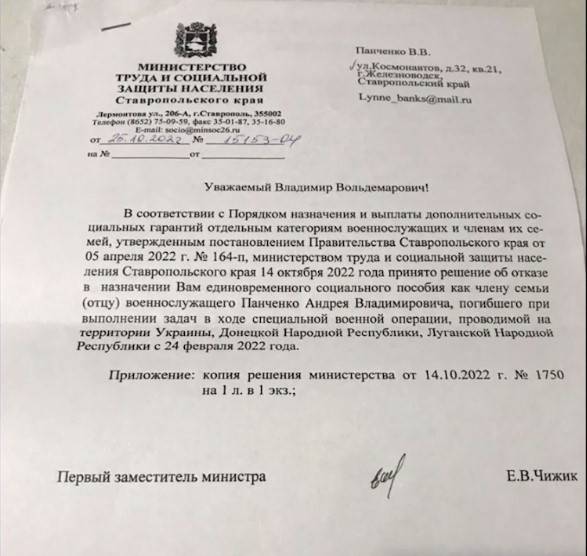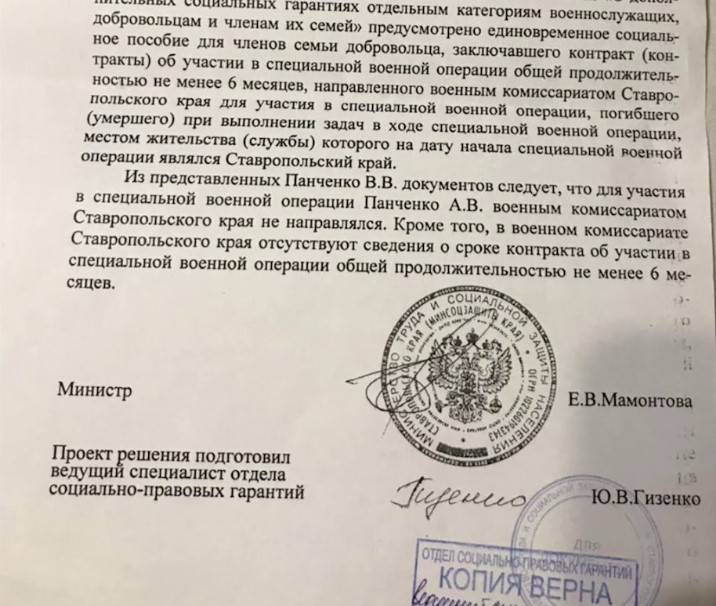 To be honest, I don't understand why Vladimir Vladimirovich Vladimirov, the governor of the Stavropol Territory, a man with a more than decent working biography, has such subordinates. I don't know what to call them correctly. Let the citizens be.
So, I don't understand how such a person has such citizens in his offices. And who do they work for? As for me - so to Kyiv, no less.
Minister (a whole minister!!!) of labor and social protection of the population of the Stavropol Territory E.V. Mamontova, First Deputy Minister of Labor and Social Development E.V. Chizhik, Leading Specialist of the Department of Social and Legal Guarantees Yu.V. Gizenko - these citizens explained to Panchenko Sr. on several sheets that he had no rights to receive benefits.
We tried. We worked.
Now, if Andrey Panchenko signed a contract for at least 6 months in the Stavropol Regional Military Commissariat, that's when ...
And Andrei Panchenko was not sent anywhere by the Stavropol military enlistment office. Logically, he went
voluntarily
. At Barca. To which, of course, the Stavropol military registration and enlistment office has nothing to do. And the contract was concluded not there, not within the walls of the military registration and enlistment office. That's why he needs to be rejected.
A direct question arises in person: are you, Madam Minister, paying out of your own pocket and do you have holes there? Need to save?
And this is Madam Minister of Labor and Social Protection. She is very protective of her countrymen. Let's look into their honest and truthful eyes, Mamontova Elena Viktorovna and Chizhik Elena Vasilievna.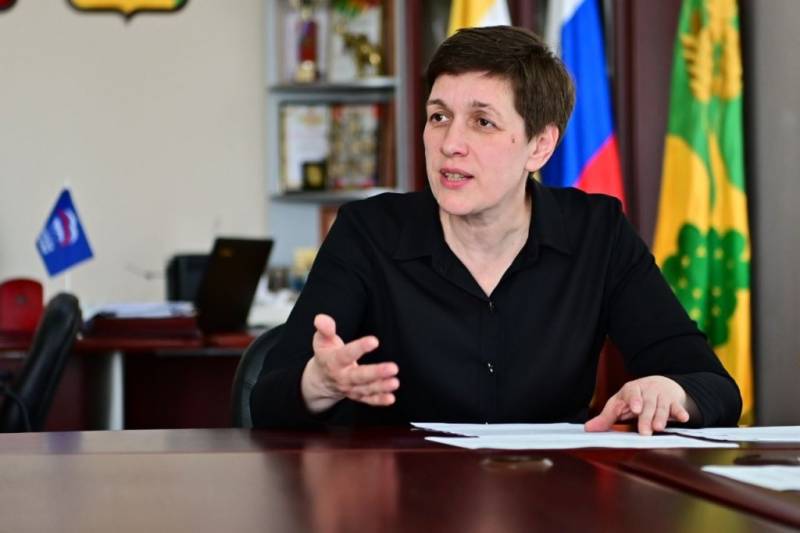 E.V. Mamontova, photo kp.ru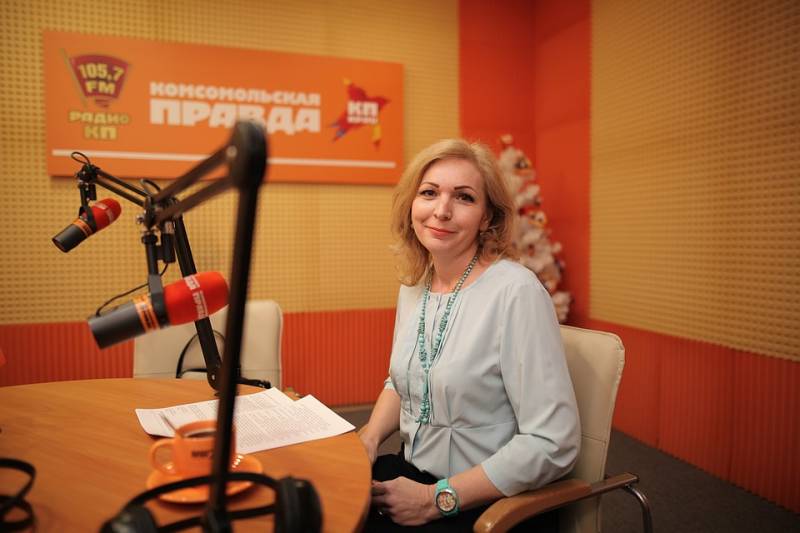 E.V. Chizhik, photo abmosk.ru
And let's ask a question. Him and Vladimirov. Gentlemen managers, how are you going to work further? For yourself or for the people? Mr. Governor, your people are a disgrace to Stavropol... React. Need. It's time.
Let's digress a little, leaving these citizens somewhere on the side. And let's look a little ahead.
Already today, some openly express their joy in this way about the fact that "Here, December 1 will come - shut up" (
List of information from the FSB that can be used against the security of the Russian Federation
). Probably yes. Have to. And tell me then, where should Panchenko Sr. go after December 1? Don't sing me fabulous songs about the prosecutor's office and other ICs, during my three years of fighting against the monuments to the Italian fascists, I personally wrote everywhere. And from where only the replies did not receive. And all to no avail.
Our entire current vertical of power is built in such a way that the officials who are on the ladder, the higher, the less trouble they have. And as you can see, they don't bother much. And they don't give a damn about the electorate, they hide behind their instructions and resolutions so that "Contact-5" nervously smokes on the sidelines. This applies to absolutely all departments, although it is worth noting that in some regions the governors have shown themselves more than worthy. But alas, this is not universal.
And when the media stops talking about these topics, the pink dream of every official will come true. Do chaos, and nothing will happen to you for it. The only ones who could somehow stir up any swamps, journalists, will be out of the game.
Well, we won't tell how our officials don't hand over their own. Here is another example drawn.
But I would recommend that they all think about this: what will happen when half a million participants return from the war? And 300 thousand mobilized, and Barca, and volunteers ... Yes, maybe not half a million, maybe less. And how will the battle-brothers react when they learn that the parents of their dead comrades have been so treated?
I would think very hard ahead. It makes sense.
In general, it is time for all those in power to think about what the policy of disregard for the people can lead to. And the millionth National Guard may not be saved, they, the National Guard, were sitting there in the trenches in the same way. Will they press "their" - the question ...
The future we will live in tomorrow is already happening today. And therefore, those who are responsible for what it will be like tomorrow, today it is time to think very seriously. To everyone, from an official who, in the throes of conscience, gave birth to a refusal to allow the father of the deceased hero.
There is less and less time left.
We ask Governor Vladimirov to intervene in the current situation, to rein in the excessively economical minister and her deputy. This disgusting case simply must be corrected.
And only then it is worth considering whether the Madam Ministers correspond to their positions so much.