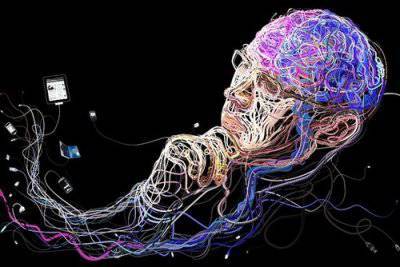 They say that what does not kill us makes us stronger. But agree that what kills us is done by us.
It's not about vodka. About her said quite enough. And, many of us can do without it quite normally.
I would like to say a few words about the world in which we live. The world is virtual. Which from year to year becomes more many-sided and more accessible. And without which, alas, no way. I'm talking about modern information space.
Yes, I'm an old sad shit that does not live on the Internet. I use it, yes. I download movies, books, music. Allowing myself to sometimes express my opinion in public. We somehow learned how to coexist with information space. I am not talking about these rather useful components of our being. I'm about placebo.
Let me take a look back, about twenty years. When there was no Internet, mobile phones, and the computer was considered to be a game console that connects to a TV or a bandura the size of a KAMaZ.
I can not say that it was more interesting. No, it's much more fun now, no doubt. More opportunities to entertain yourself, loved one. And then I had to develop my intellect, and it was more difficult than to develop muscles, despite the lack of rocking chairs and Kettlers. Nothing coped. Who wanted - developed brains, who wanted - developed a body, who wanted to combine - tried to combine. It was very simple and almost tasteful.
Progress at the end of the last millennium was like a collapse. There are many affordable delicacies that are not slow to affect a simple man in the street. The Internet has become a boon for the wretched in spirit and intelligence. Still, obmaterit, throw mud at the interlocutor, knowing that for you it will be absolutely nothing. Freedom! And the phrase "I'll break the scoreboard for you" and the meaning of further action is slowly being supplanted by the threat "I'll figure your aypishnik" ... Yeah, go! From Khabarovsk to Novgorod? Come on…
Well okay rudeness. It has always been, and apparently, will continue. Only before the rude could confident individual in his power, now anyone with a dynamic ip. God be with them, boors, may the force be with the moderators. But we went further. At one time, reading the works of Lukyanenko "Labyrinth of Reflections" and "Fake Mirrors", I looked at them as if they were cool, fantastic creations. But ... alas. Lukyanenko was a genius. Who foresaw a lot. For this, he can be forgiven even "Patrons". I take off my hat, but not with reverence, but with the understanding in which we found ourselves in shit.
We sunk. We - because it is we who live on the same small planet. We grow up konyashek, build small houses, milk virtual cows ... Indeed, we will soon reach virtual hamburgers. Is this not degradation? And buy real money gadgets for a virtual game? And then to boast that (overheard today on the bus) "Tanyuh, I will throw the address to you, there are such cows, they give milk - to go nuts! I bought three, just for 300 rubles "...
Oh great internet! You are our God in nature, who gives each his own. And everyone uses it for the benefit of himself. But what will we come to?
Beg one more digression. Why am I sharing these thoughts here? And everything is simple. Here, as if thinking people. Yes, there were people with whom I argued. He did not agree with someone, he cited his arguments to someone. But, every time I had to strain my brains, rummaging around the same turn, in search of sources, because the "wiki" did not channel. And glory to him, found. And I learned a lot of new things. And thanks, and allies, and opponents. Including, because it is precisely thanks to my brain and his work for the sake of my own Own Greatness Feel that I will never even become an office, but a pet, poking a mouse into the virtual world and muttering "aha, milking cows, take cabbage to the store , repair planter ... ".
In short, thanks to everyone!
It strains one thing: we tend to divide the world into black and white, ours and others. So, I hope that in another ten years I will not have problems with accepting to work due to the fact that I do not have a profile in the "classmates" and no farm. That we will not be thrown into the reservation for those who do not want to breed horses. That the questionnaire does not appear the item "how many friends do you have in contact?". Well, and so on. After all, that the most rotten - everything is possible. For it seems to me that this Internet grayness has already captured the world. I really hope that, unlike Lukyanenko, I am not a seer.
But to live in a world fascinated by a virtual twin ... I just don't want to.