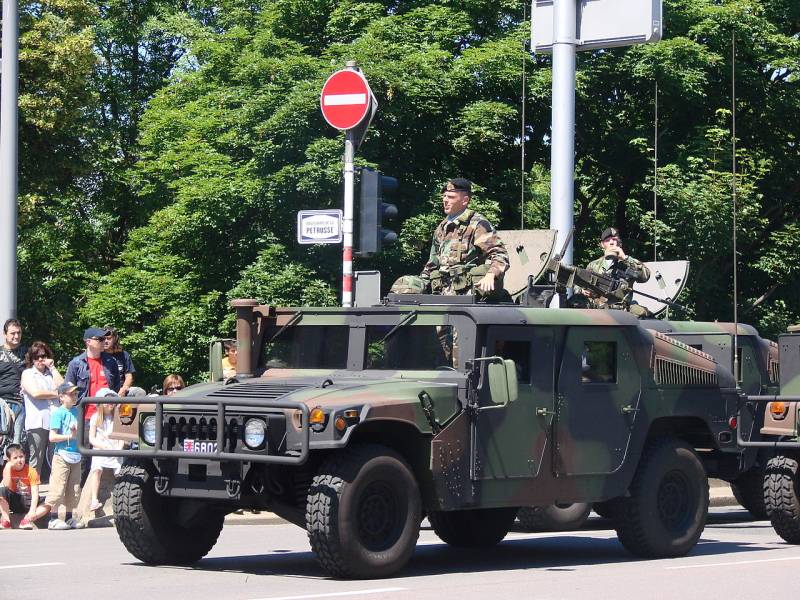 One of the most modest in terms of equipment and the number of personnel, NATO armies decided to provide assistance to Ukraine with military equipment. We are talking about the decision taken in the Duchy of Luxembourg.
The Ministry of Defense of this small European country, which has an army of about 500 people, announced a decision to send several army vehicles to Ukraine. They traveled east in vans.
This was stated by the head of the Luxembourg Ministry of Defense Francois Bausch, according to whom, for the needs of the Ukrainian army, army vehicles "Humvee" (HMMWV) were sent. In this case, we are talking about one of the first generations of this armored vehicles.
Also, according to Bausch, Luxembourg is considering the possibility of supplying Ukraine with a batch of 155-mm artillery shells and drones.
The statement that HMMWVs are being sent for the Armed Forces of Ukraine and they are preparing to send NATO 155-mm caliber shells, on the one hand, says that Luxembourg also has to (whether it wants it or not) demonstrate the so-called "Euro-Atlantic solidarity" with partners helping Ukraine. On the other hand, the fact that the stocks of weapons and ammunition in other European countries for transfer to Ukraine are not unlimited. So, it became known that the industry of the NATO countries produces no more than 88 thousand 155 mm caliber ammunition per year, and the Ukrainian troops conduct an average daily consumption of ammunition in the battle zone in the amount of about 5 thousand. Even if we continue to pour huge funds into the American military-industrial complex, this will not allow us to reach new levels of ammunition production in a short time, primarily due to the lack of a sufficient number of production lines and specialists employed in such production.
For reference: the army of Luxembourg is the second smallest in Europe. Only the army of the tiny state of San Marino, which officially has 99 people, is smaller.