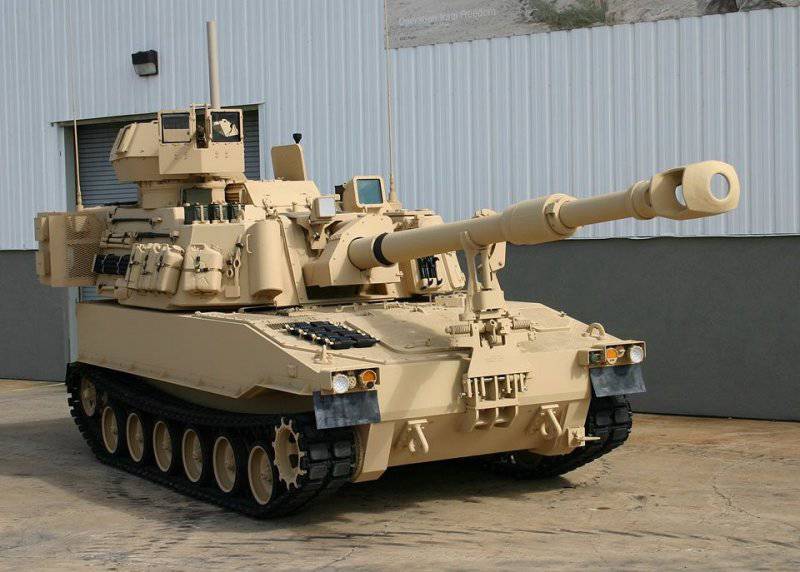 The US Army plans to launch in November the key test phase of the X-NUMX-mm self-propelled howitzer (SG) M-155A109 Paladin, which received the designation M-6A109 PIM (Paladin with integrated control).
According to the International Defense Review, citing Colonel Bill Sheeghi, the program of heavy combat brigade groups, limited testing by the customer M-109A6 PIM is scheduled to start from November 1 2012 at the Yuma training ground. Based on their results, it is planned to make a decision on small-scale production of advanced installations.
The goal of the PIM program is to extend the service life of M-109A6 howitzers for the long term (30-40 years) and increase their combat capabilities.
As part of the 2009 contract signed in August 63,9 million dollars to BAE Systems, in May 2011 supplied the USA 5 ACM M-109A6 PIM prototypes and two M-992A2 Ammunition Ammunition Replenishment Machines (Field Artillery Ammunition Ammunition Ammunition M-XNUMXAXNUMX FAASV) in May XNUMX
According to the representative of BAE Systems, Roy Perkins, so far, the total mileage of five prototypes exceeded 4 thousand miles, and more than 28 thousand ammunition was used during the shooting.
The M-109A6 PIM, retaining the newly reconstructed cockpit and 155-mm gun with a length of 39 gauges, was modernized using the most modern technologies, including the equipping with a digital fire control system and an improved semi-automatic loader system.
The electric drive of the gun replaced the hydraulic control systems developed at the beginning of the 1960s. The outdated chassis was replaced with an upgraded suspension and transmission designed for the Bradley combat vehicle. Detroit Diesel engine XHUMX HP replaced by a Cummins V440 diesel engine with an 903 horsepower, which is also equipped with Bradley. As a result, the mass of the PIM version has increased compared to the base version. The FAASV is also built on the Bradley chassis.
As previously reported, a total of X-NUMX M-975A109 "Paladin" self-propelled howitzers were manufactured. CB USA are planning to upgrade to the PIM standard to 6 ones. Draft budget for 580 FG includes the allocation of 2013 million dollars for the purchase of X-NUMX self-propelled howitzers M-206A17 PIM and 109 FAASV ammunition vehicles.