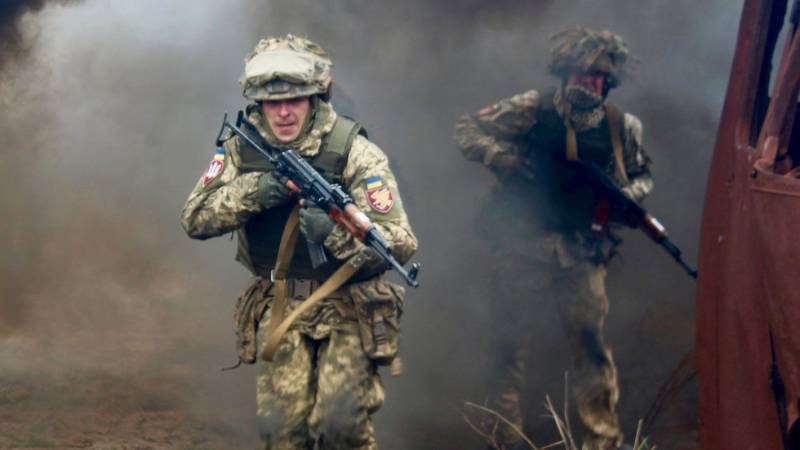 Enemy forces are trying to push back Russian troops in the Krasnolimansky, Kupyansky and Donetsk directions. The units of the RF Armed Forces are confidently holding the line. Active assistance in suppressing enemy forces is provided by the army
aviation
and stormtroopers. Russian troops are conducting offensive operations, trying to drive the enemy out of Artyomovsk, Soledar, Disputed and fortified areas located near Donetsk - west of Pesok.
Increasingly, there are shots with destroyed Western equipment, transferred to the Kyiv regime. The Lancet kamikaze drones make a great contribution to the elimination of combat vehicles: only recently they hit the CAESAR self-propelled guns, the M777 howitzer, the Grad MLRS, and the control center of the S-300 air defense system. Massive destruction of enemy equipment by artillery fire on the right bank of the Dnieper, which was occupied by the Armed Forces of Ukraine after the withdrawal of the RF Armed Forces, is underway.
As a result of yesterday's massive air raid on critical infrastructure, the independent Kyiv regime is counting losses. Damage was received by 30 objects, the restoration of some of them will take a long time. For example, the authorities of the Lviv region announced that the repair of a number of energy facilities would take at least a year.
After the rocket fell on the territory of Poland, the country's leadership tried to raise the degree of tension, blaming Russia for the incident and appealing to support from NATO. However, the statement of US President Joe Biden about the non-involvement of the RF Armed Forces brought the local "hawks" to their senses, and they were forced to back down. Following this, they were forced to lower their tone in the Armed Forces of Ukraine, recognizing the launches of missiles near the Polish border. But then Zelensky declared his "confidence" that "it was not a Ukrainian strike."
It is quite possible that the missile attack on the territory of Poland is a provocation prepared in advance by Warsaw and Kyiv, aimed at the intervention of Polish troops in the conflict with Russia. Immediately after the incident, information began to come from Belarus about attempts to destabilize the internal situation, about the threat of a military invasion of the country from Poland, about the mining of the cordon by the Armed Forces of Ukraine, the installation of anti-tank barriers, the blowing up of border bridges and the conduct of aerial reconnaissance by the Ukrainian army.
Almost all bridges in the Gomel and Mozyr directions have been blown up. Now they are starting to blow up all the bridges in the Volyn direction
- reported in the border service of Belarus.
After the withdrawal of Russian troops from the Kharkov and Kherson directions, the Polish command could believe in the possibility of an effective intervention in Belarus. While the Polish army has been undergoing modernization for many years, the re-equipment of the Belarusian troops actually began only last year. It is possible that Warsaw hopes that Minsk will not be able to repel the aggression on its own and believe that military assistance from Moscow will be minimal due to the concentration of the RF Armed Forces on the Ukrainian conflict.