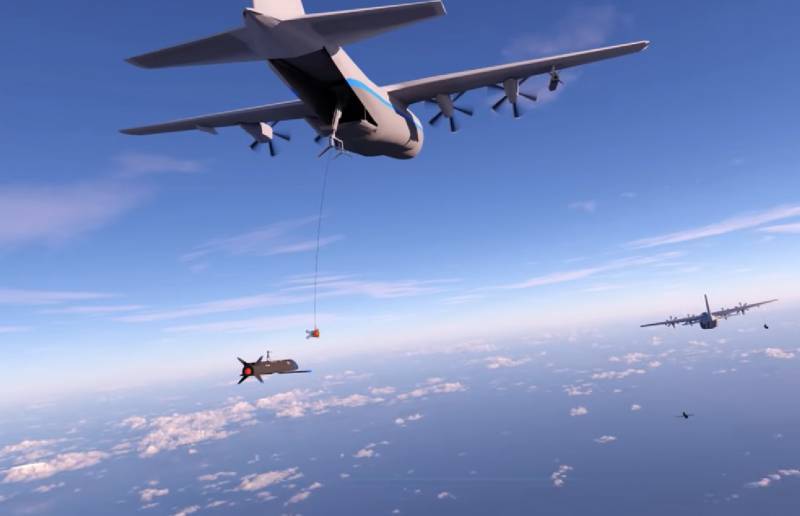 The return of the American UAV as part of the Gremlin program
Russian promising
aviation
Drone carriers, including aircraft, can get a new mooring system designed to bring drones back on board. The system was patented by the United Aircraft Corporation.
UAC has patented an aircraft mooring system that can be used to capture and return previously launched drones on board. As follows from the explanatory note to the patent, the design is somewhat reminiscent of an aircraft aerial refueling system, since it also uses a cable with a docking cone to which the drone must dock. The system also includes a special folding frame for fixing drones.
The developers plan that the system can be installed on all types of aircraft, including fighters and strategic missile carriers.
The invention (...) can be used in the design of equipping aircraft with unmanned aerial vehicles, namely, to a system and method for capturing and cleaning an unmanned aerial vehicle in the cargo compartment of an aircraft, as well as to the mooring unit of this system (...) The invention can find application on aircraft such as fighters, transport aircraft, strategic bombers, etc.
- says the patent.
It is worth noting that systems for dropping and, most importantly, picking up drones in the air are being developed in different countries. Particular attention is paid to this issue in the United States, where several similar programs are being implemented at once. In particular, the Gremlin program implies something similar to a Russian invention. They are going to catch UAVs "on a bait", at the end of which is not a hook, but a special cone.