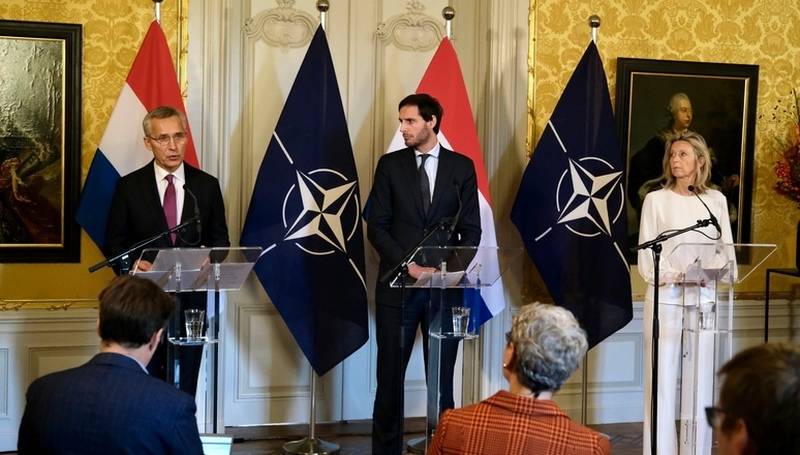 NATO does not believe that Ukraine needs to sit down at the negotiating table with Russia, the alliance advocates the continuation of hostilities and achieving victory on the battlefield. This statement was made by NATO Secretary General Jens Stoltenberg.
Stoltenberg spoke at a joint press conference with the heads of the Foreign and Defense Ministries of the Netherlands, where he answered a number of questions from journalists regarding Ukraine and possible peace talks with Russia. According to the Secretary General, the time for peace talks has not yet come, Ukraine does not have the position to dictate its terms, so the task of the alliance is to help the Armed Forces of Ukraine win on the battlefield.
At the same time, one should not underestimate the Russian army, which retained "significant capabilities" and "a large number of personnel," he stressed. Even the withdrawal of the Russian Armed Forces from Kherson did nothing to ease the situation of the Ukrainian army, which is waiting for "difficult months." Therefore, the task of NATO is to support the Armed Forces of Ukraine in the winter months and make sure that Kyiv wins as many victories as possible.
As the NATO Secretary General noted, the alliance does not want Russia to dictate its terms at the negotiating table, so the outcome of the conflict will be decided on the battlefield.
The only way to achieve a solution to the Russian-Ukrainian conflict is on the battlefield. Many conflicts are resolved at the negotiating table, but this is not the case, and Ukraine must win, so we will support it for as long as it takes
- declared Stoltenberg.
Earlier, NATO called on the member countries of the alliance to increase military assistance to Ukraine in order to prevent the victory of the Russian army.