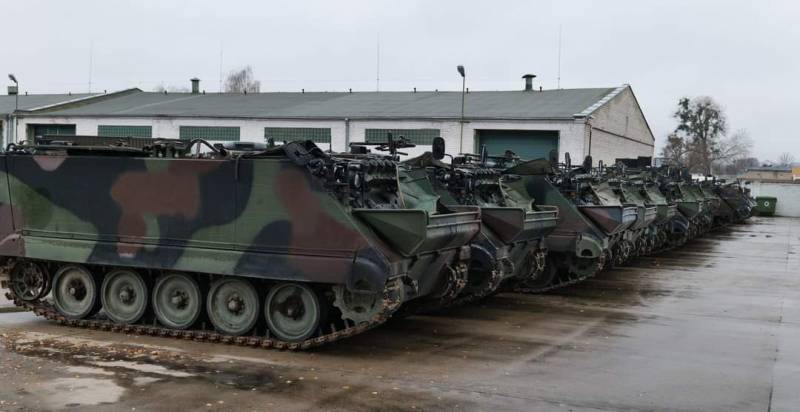 Lithuania continues to supply Ukraine with military equipment from the presence of its army, this time the Armed Forces of Ukraine received a batch of Panzermörser self-propelled mortars and fire control vehicles. The Minister of Defense of Lithuania Arvydas Anusauskas announced the transfer of equipment.
Lithuania handed over to the Ukrainian army 10 Panzermörser self-propelled mortars on the chassis of the American tracked armored personnel carrier M113A2. The Ministry of Defense of Lithuania received these mortars from the presence of the Bundeswehr, the delivery took place in 2005-2006. In total, the Lithuanian Armed Forces were armed with 42 heavy self-propelled mortars. Together with mortars, Ukraine received two fire control vehicles, again based on the M113A2 armored personnel carrier. Also, the party included ammunition for mortars, how much is not disclosed.
Lithuania continues to fulfill its obligations. I want to thank the soldiers of the Lithuanian army and the specialists of the national defense system, who in a short time prepared and organized the logistics
- cites the statement of Anusauskas by the Lithuanian Ministry of Defense.
The Panzermörser heavy self-propelled mortar is a 120 mm Tampella mortar mounted on the basis of the American M113A2 armored personnel carrier. Declared firing range - 6500 - 7200 meters, transportable ammunition - 60 minutes. The crew, he is the calculation, consists of 5 people.
In 2013, Lithuania, with the help of the Israeli company Elbit, upgraded mortars. The updated Panzermörser received a new digital fire control system, devices for observing and adjusting fire, as well as new barrels.
As the Lithuanian Ministry of Defense noted, since the beginning of the Russian special operation, Ukraine has received 62 M113 armored personnel carriers for various purposes from the presence of the Lithuanian army.