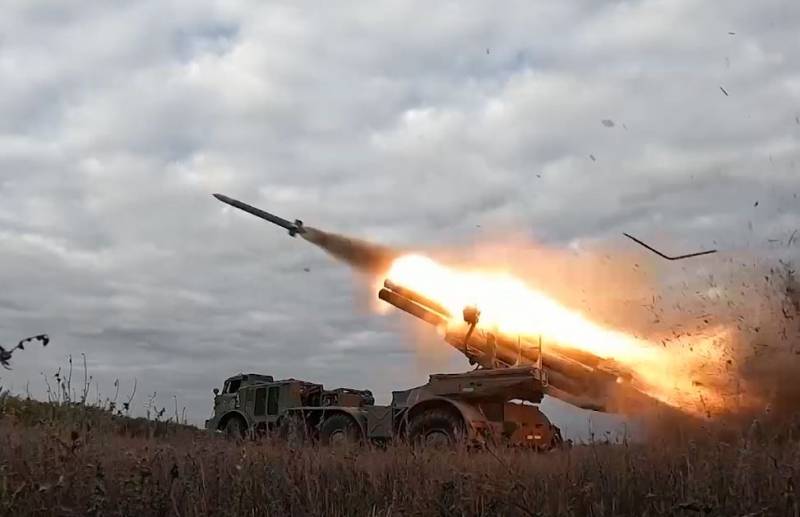 During the day, Russian troops repelled several enemy attacks in the Kupyansky and Krasno-Limanny directions, artillery strikes on the positions of the Armed Forces of Ukraine continue, and high-precision
weapons
- deep into the territory of Ukraine. There were no significant changes in the situation at the front.
Attacks on critical infrastructure and military installations in Ukraine continue. Tonight, a missile attack was delivered on Kharkov, an enterprise where the damaged military equipment was being repaired was hit. According to other information, it flew to the shops where they tried to make high-precision projectiles from MLRS using kits supplied by the United States. Moreover, this is not the Kommunar plant, where such production was recently closed by a strike by Russian high-precision weapons. It is reported that rockets, not drones, allegedly worked in Kharkov.
With the advent of Lancet kamikaze drones, there have been more reports of the destruction of various armored vehicles in the area of ​​​​the line of contact, at the same time
aviation
continues to hunt for radar stations of anti-aircraft systems and counter-battery combat stations. Over the past day, two AN / TPQ-50 counter-battery radar stations were destroyed in the Kharkiv region and on the territory of the DPR. In the Zaporozhye region - the S-300 radar. In the Kherson region, in the Lvovo region, a warehouse of weapons and military equipment was destroyed, and in the Kharkov region, a fuel storage facility was destroyed.
Now in terms of directions: on Kupyansky, enemy attempts to attack in the direction of Kuzemovka were thwarted, more than 120 Ukrainian servicemen were killed, six
tanks
, five infantry fighting vehicles, three armored personnel carriers and five vehicles. At Krasno-Limansky, attacks in the direction of Chervonopopovka were repulsed. Losses - up to 90 Ukrainian servicemen and militants killed and wounded, five armored combat vehicles and six pickup trucks.
In the South-Donetsk direction, an attempt to attack in the direction of Novoselok was thwarted, more than 80 Ukrainian servicemen, one tank, two infantry fighting vehicles, two armored personnel carriers and three vehicles were destroyed.
Air defense systems shot down six drones, intercepted three HIMARS MLRS rockets.