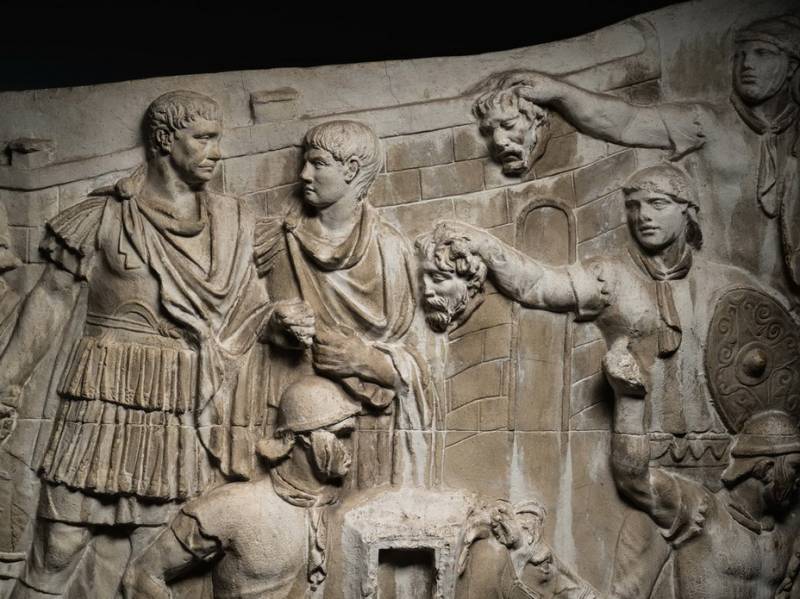 In the previous two articles (
first
,
second
) was told about the political and military career of Lucius Cornelius Sulla and his victory in the civil war. Today we will finish this story.
Sulla's reprisals
I must say that it was Sulla who became the author of the idea to buy the heads of his enemies. He set a very high price - 12 thousand denarii for a free man and liberation for a slave. So that those wishing to earn extra money knew who to look for and did not bring extra people to him, he compiled the so-called proscription lists (from the Latin proscriptio - "publish in writing" or "announce").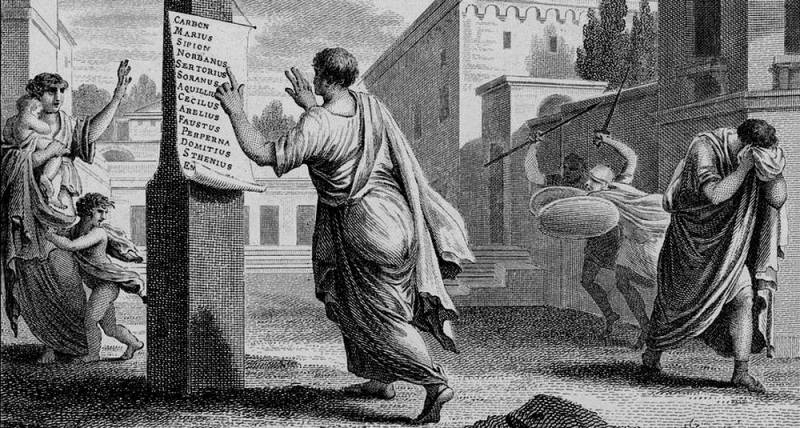 This idea was very liked by all the ambitious people of Rome and was widely used. The proscriptive lists, for example, were the triumvirs Octavian, Mark Antony, and Lepidus.
In the first proscription list, Sulla entered the names of 40 senators and 2 horsemen. All of them were sentenced to death, the property of their families was subject to confiscation, the sons and even grandchildren of the executed were deprived of Roman citizenship. Then new lists were published, and in total at least five thousand Romans (including 600 senators) became victims of terror.
The monuments erected in honor of the victories of Gaius Marius were destroyed (later Caesar would order them to be restored), Sulla ordered the corpse of this commander to be thrown into the Anio River (a tributary of the Tiber). It is curious that before Sulla's death, fearing that his remains would be treated in the same way, he ordered "to put his body on fire."
Plutarch, describing these tragic events in Rome, states:
"Husbands were slaughtered right in the arms of their wives, sons in the arms of their mothers."
Moreover, the rich and noble were in the greatest danger. Plutarch reports that a certain Quintus Aurelius, a person far from politics and state affairs, finding his name in the proscription list, said:
"Woe is me! My Albanian estate is chasing me!"
Of course, there were many abuses, and many of Sulla's associates then amassed a huge fortune in sales of confiscated property - including Crassus, Lucullus and Pompey. Crassus became so insolent that he began to enter the names of wealthy citizens in the proscription lists without the consent of Sulla. The dictator did not like such arbitrariness and even seemed to be an attempt on his powers. Despite his merits in the Battle of the Collins Gate, Crassus was barred from participating in this profitable "business".
It was at this time, by the way, that the famous and catchphrase appeared in Rome:
"Let them hate, as long as they are afraid."
Seneca later wrote about her:
"It is immediately clear that it was written in the time of Sulla."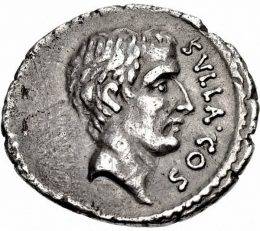 Portrait of Sulla on a denarius of his grandson Quintus Pompeius Rufus, 54 BC e.
In one of the proscription lists was the name of the young Gaius Julius Caesar, but he escaped death, thanks to the intercession of his influential relatives from among the supporters of Sulla. The dictator did this reluctantly, saying that "there are many Marievs hiding in the boy." This phrase of Sulla is reported by both Plutarch and Gaius Suetonius Tranquillus.
Many warriors and even commanders of the armies of Sulla's opponents were sold into slavery. And for Rome, this had very unpleasant consequences during the uprising of Spartacus. Sallust claims that in the army of this mysterious "Thracian" (who, according to many, was called a Thracian for his gladiatorial specialization), were
"people free in spirit and glorified, former fighters and commanders of the army of Marius, illegally repressed by the dictator Sulla."
Plutarch even writes that some of the rebels were imprisoned
"into a dungeon for gladiators due to the injustice of the master who bought them, who dared to send Roman citizens to the arena who heroically defended freedom from the tyranny of Sulla."
Finally, Varro directly says that he himself
"Spartacus was unfairly thrown into the gladiators."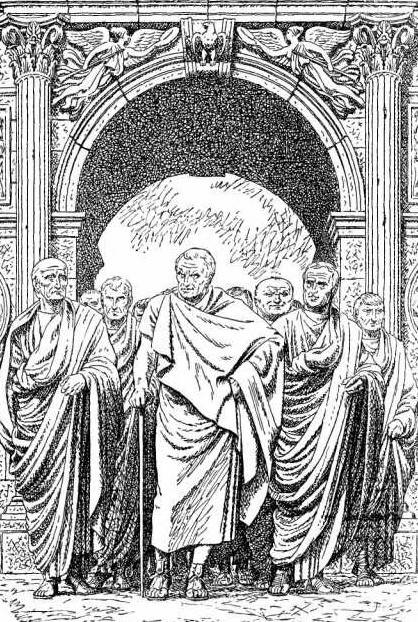 This is an illustration for the first chapter of R. Giovagnoli's novel "Spartacus": already as a private person, Sulla goes to watch gladiator fights, in one of which the protagonist of this work will take part
These people, "glorified" and "free in spirit", Sallust clearly separates from other categories of rebels. Because, besides them, in the army of Spartacus there were people "cruel in character" - apparently, robbers. "Shamefully forgotten about their homeland" - probably referring to the Roman deserters and defectors. And finally, those who "due to their slavish nature" did not strive for "anything but prey and satisfaction of their cruelty" - that is, slaves.
The presence of "illustrious people" explains the success of the rebels: their leaders turned out to be extremely capable military leaders, and Spartacus, of course, was an outstanding commander. Spartacus and the commanders of his army knew the geography of Italy very well, moving numerous troops across it like pieces on a chessboard. And they categorically did not want to leave Italy. According to this (quite plausible) version, Spartacus was probably a repressed Roman citizen.
But Crixus (literally "Wearing a bracelet", a Greek name often found in the Oskov tribe), Kannikas ("Shining with victories" - no more, no less), he is Gaius Gannicus and his deputy Kast ("Spotless") are clearly representatives italic tribes. And it becomes clear why the troops of the rebels suddenly split up: the Italians and the main army of Spartacus had different interests and goals. And the detachment of Enomai (a Greek name common among hereditary slaves) had completely different goals. This compound, broken at the battle of Vesuvius, seems to have been dominated by criminal elements.
Sulla's reforms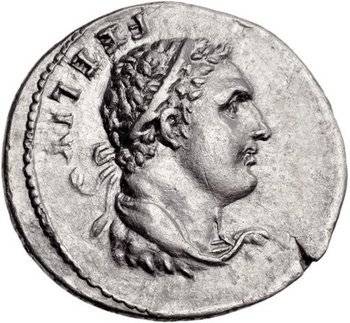 Denarius of Faustus Sulla (Hercules with the features of a dictator)
Since the last Roman consuls, Marius the Younger and Gnaeus Papirius Carbon, were already dead, Sulla turned to the Senate with a demand to elect an interrex (literally, "inter-prince"), who was to announce the choice of either new consuls or a dictator.
This was Lucius Valery Flaccus (not to be confused with the Marian commander, who during the Mithridatic War was sent to replace Sulla as commander-in-chief, but was killed in Chalcedon during a soldier's rebellion). Not daring to argue with the sovereign master of Rome, Flaccus, for the first time in the last 120 years, submitted to the national assembly a proposal for the election of a dictator.
Tradition set the term of dictatorship at 6 months, but Sulla was appointed dictator "until Rome, Italy, the entire Roman state, shocked by internecine strife and wars, is strengthened." His title was as follows: dictator legibus scribundis et rei publicae constituendae - "dictator without a time limit for the preparation of laws and the establishment of a republic."
Sulla received the right not only to impose the death penalty and confiscate property, but also to found colonies, to give orders to build or destroy cities, to grant and take away the thrones of neighboring states with his will. Retrospectively, all the orders and instructions given by Sulla were declared legal.
To show everyone respect for the old laws and traditions, Sulla did not interfere with the election of consuls for 81 BC. e. However, to make it clear to everyone that he stands above the consuls, 24 lictors with fasces walked in front of the dictator, as in front of the king.
The former interrex, Lucius Valerius Flaccus, was thanked by Sulla by giving him command of the cavalry.
The soldiers of Sulla's army received allotments of land that had previously either been the property of persons included in the proscription lists, or confiscated from the Italic urban communities in Campania, Samnia and Etruria. Thus, the dictator created a layer of loyal population in these rebellious areas. These measures led to the impoverishment of many peasants and unrest that lasted for almost 10 years.
The Cornelian laws (lex Cornelia annalis), adopted under pressure from Sulla, were supposed to strengthen the regime of the aristocratic republic in Rome. The rights of the people's tribunes (including the right of veto) were severely limited, and they lost the right to nominate themselves for other magistracies, now available only to patricians and horsemen. The powers of the Senate were significantly expanded. It was now possible to occupy a similar public position only 10 years after the expiration of the first term. Laws aimed at limiting luxury were also passed.
However, Sulla himself did not comply with the requirements of his laws. First, in 81 BC. e. he announced his intention to run for consulship, although only 8 years had passed since his first consulship. And becoming a private person, he also violated the law on luxury, becoming famous for squandering. Plutarch claims that during his feasts
"the surplus of prepared supplies was so great that every day a lot of food was dumped into the river, and forty-year-old and even older wine was drunk."
Renunciation of power
Around 79 B.C. e., after two years of dictatorship and terror, Sulla surprised everyone by relinquishing power. Before that, he issued a decree forbidding any army to enter the territory of Italy, and disbanded his legions.
He declared that he was ready to give an account of his actions (but no one dared to demand such a report). At the same time, he was so confident in himself that he walked around Rome without guards. And, it must be said that only one incident is known, about which (apparently because of its exclusivity) Appian reports:
"Some youth began to revile him (Sulla) and did not stop scolding until the former dictator reached the house. The same, before entering the house, remarked: this boy will serve as a hindrance to anyone else who wishes to relinquish power.
And adds:
"A short time passed, and the Romans realized how right Sulla was: Gaius Caesar did not lay down his power."
According to tradition, after the expiration of the consular term, Sulla was assigned to Cisalpine Gaul, but he did not go to this "his" province and did not take part in its administration.
Sulla did not interfere with the election of Marcus Aemilius Lepidus as consul, who did not hide his hostility to his reforms, while a devoted supporter of the former dictator, Quintus Lutacius Catulus (son of the consul in whose army Sulla fought in the battle with the Cimbri under Vercellach). Both were elected, but Lepidus, who was supported by Gnaeus Pompey, who had previously been loyal to Sulla, received more votes. According to Plutarch, Sulla only said to Pompey:
"I see, young man, that you are happy with your success. How noble and wonderful of you that Lepidus, a notorious scoundrel, was elected consul by your intercession before the people, and even more successfully than Catulus, one of the most respectable people. The time has come for you not to doze off and be on your guard: after all, you have acquired an enemy much stronger than yourself.
Looking ahead, let's say that after the death of Sulla, Lepidus, sent to suppress the uprising in Fezuly, led it himself, promising to return the confiscated lands to their former owners. It was defeated by Catulus and Pompey.
In the meantime, Sulla moved to his villa, located between the cities of Cuma and Puteola, where he hunted, fished, and also wrote 22 books of his memoirs, dedicating them to Lucullus, a successful commander who was glorified not by victories, but by the cooks he hired (this is what matters competent work with personnel).
Sulla's illness and death
It is known that Sulla suffered from some kind of skin disease, the manifestations of which were itching all over the body and a red rash on the face. Plutarch, for example, reports that Sulla's face resembled "a floured mulberry." He also writes:
"All the features of the external appearance of Sulla are conveyed in his statues, except perhaps for the look of his light blue eyes - heavy and penetrating - and the color of his face, which made this already hard to bear look even more terrible. His whole face was covered with a red uneven rash, under which only white skin was visible in some places.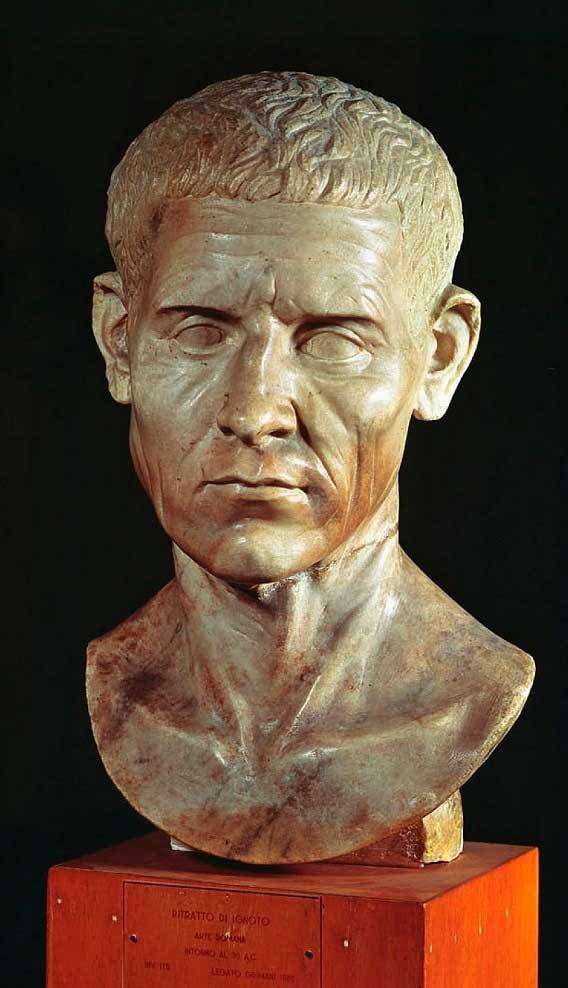 Lucius Cornelius Sulla, bust. Museum of Archeology, Venice
After the victory in the Mithridatic War, Sulla's condition worsened, and before leaving for Italy, he had to be treated with hot springs on the island of Euboea. But in Italy, the disease worsened again, and after the victory over the army of Gaius Norbanus at Capua, Sulla was again treated with water from local sources. Feeling relieved, he, according to Velleius Paterculus,
"given thanks to Diana, the goddess to whom the area was dedicated."
On the one hand, because of this illness, Sulla was ridiculed. But, on the other hand, then they believed that only unusual and outstanding people suffer from some rare and unusual diseases. A rare illness of some king or emperor sometimes in the eyes of the people served as proof of his "divinity" (for example, Caesar's epilepsy).
For a long time, attempts have been made to establish the illness of Sulla. They called phthiriasis (a disease caused by pubic lice), scabies, skin cancer. But the manifestations of these diseases are local, limited. Most likely, it was some kind of common eczema, but possibly allergic dermatitis. Sulla's illness was certainly painful, but it did not cause his death.
The reports of ancient authors that the former dictator was literally eaten by lice are fantastic and clearly have nothing to do with reality. Plutarch, for example, wrote that the body of Sulla
"became covered with a myriad of lice. Many were busy taking them off day and night, but what they managed to remove was only a drop in the ocean compared to what was born again. All his clothes, bath, washing water, food were teeming with this decaying stream. Many times a day he immersed himself in water to wash his body and purify himself. But it was all useless."
Pliny reports:
"The dictator Sulla was devoured by phthyriasis, when from the very blood of man the creatures that gnaw at the body are born."
These fantasies about the incredibly rapid spontaneous generation of lice against the background of "excess moisture in the body" are taken from the writings of Aristotle, whose authority was indisputable. In fact, lice have a long development cycle, relapses are possible, but only after a certain time.
It is believed that these stories about lice devouring Sulla belonged to his political opponents who want to defame the former dictator. Pausanias, for example, in his work "Description of Hellas" wrote that phthiriasis allegedly became the punishment of Sulla "for the atrocities committed in Athens."
However, if we believe the same Plutarch, we learn that excessive lice was the lot of other famous people, including quite positive ones. She allegedly caused the death of Callisthenes, imprisoned by Alexander the Great, the consul Mucius Scaevola (either father or son), a certain Eunus, who led one of the slave uprisings, even the Argonaut Acastus, the poet Alkman and the philosopher Pherekides (about death due to lice of the last two, Plutarch, apparently, learned from the works of Aristotle). Diogenes Laertes also added Plato to this list of "victims of lice".
In fact, the same Plutarch wrote that Sulla died after some kind of "abscess" "erupted" in him and started vomiting blood. Perhaps it was pulmonary bleeding on the background of tuberculosis or some kind of abscess. But bleeding from varicose veins of the esophagus is not excluded, which happens, for example, with cirrhosis or liver tumors. But this, of course, has nothing to do with skin disease.
But Appian, on the contrary, claims that Sulla led an active lifestyle until the end of his life and died suddenly:
"By evening he fell ill with a fever, and died at night."
Before that, he allegedly had a dream in which he saw a genius calling him. Having told his friends about this, Sulla managed to draw up a will. Appian writes:
"It was, apparently, as his name also showed, the happiest person in everything until the end of his life, if we consider the fulfillment of his desires as happiness for a person."
At the time of his death, Sulla was about 58 years old (some write - 60). It is reported that mourning was declared throughout Italy, the former dictator, with a huge gathering of people, was buried at the state expense on the Field of Mars, where only kings had previously been buried.
The grave inscription, compiled by Sulla himself, read:
"Here lies a man who, more than any other mortal, has done good to his friends and evil to his enemies."
The "Cornelian laws" began to erode shortly after Sulla's death. The political parties again began to flirt with the plebeians by restoring free distributions of bread. Tribunes again received the right to occupy other magistracies. Participants in the uprisings of Lepidus and Sertorius were amnestied.
In 70 BC. e. under the consuls Pompey and Crassus, the jury was transferred to the horsemen. Julius Caesar restored the rights of the descendants of persons included in the proscription lists.
But the Roman Republic was already living its last days. Caesar, who became the new dictator, was killed, but a new civil war brought Octavian to power, whose full title was: "Emperor, son of the Divine Caesar, Augustus, Great Pontiff, Consul 13 times, Emperor 21 times, endowed with the power of the people's tribune 37 times, Father Fatherland" (Imperator Caesar Divi filius Augustus, Pontifex Maximus, Consul XIII, Imperator XXI, Tribuniciae potestatis XXXVII, Pater Patriae).