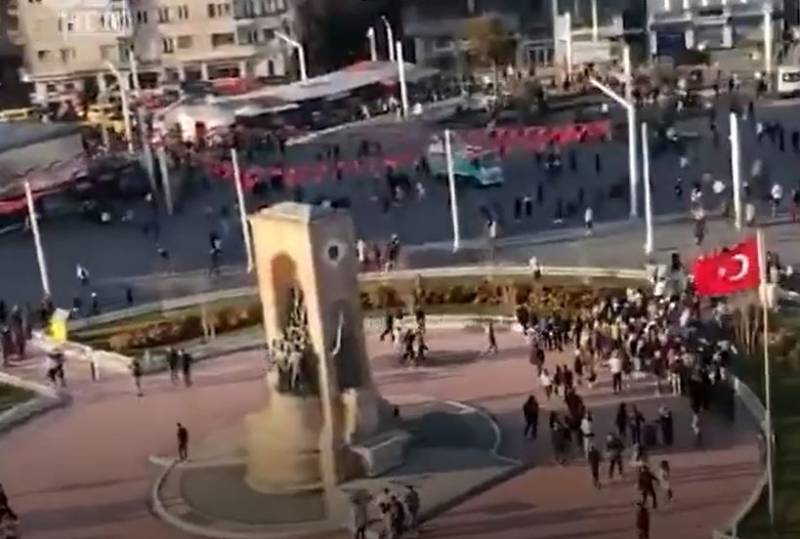 An explosion thundered in the center of Istanbul, an explosive device was set off by a suicide bomber, dead and wounded are reported, and emergency services are working on the spot.
The terrorist act took place right in the center of Istanbul on the pedestrian tourist street Istiklal, very popular with tourists. According to preliminary data, the bomb was set off by a suicide bomber, who blew himself up right among the pedestrians. The police and other emergency services are rushing to the place, it is cordoned off. At the moment, it is known about four dead and at least thirty injured. In this case, the death toll may increase.
An explosion occurred on Istiklal Street, overlooking Taksim Square in Istanbul. As a result, many people suffered. Many medical teams were dispatched after the incident. Security forces cordoned off the area
the emergency services said in a statement.
The police blocked Istiklal Street, as well as the streets adjacent to it, and residents of nearby houses were evacuated. So far, no official statements regarding the explosion have been made, but the authorities recognize it as a terrorist attack. No one has yet taken responsibility for the explosion.
The moment of the explosion was caught on the surveillance cameras of a nearby building, and reports that the explosion was carried out by a suicide bomber were confirmed. Nothing is known about the presence of Russian citizens among the victims; the Russian Consulate General in Istanbul, by the way, also located on this street, is conducting an investigation.