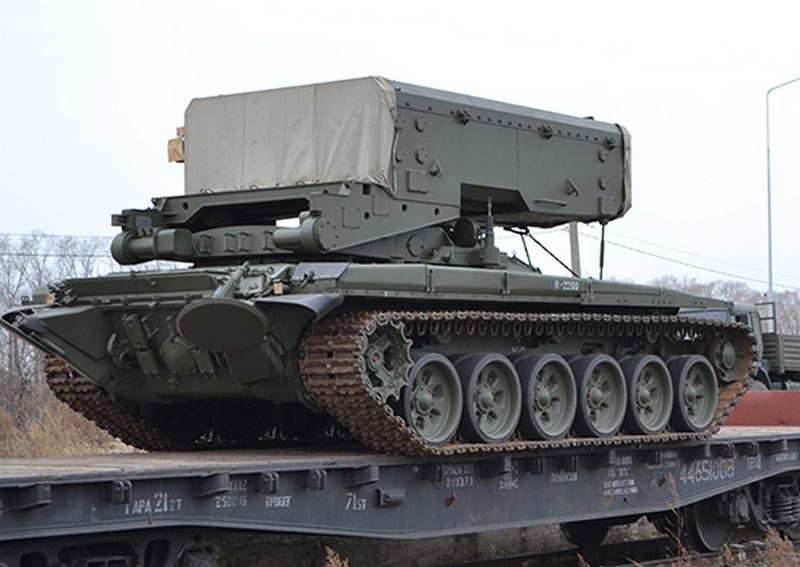 The flamethrower system TOS-1A "Solntsepek" will increase the firing range and accuracy, work on the modernization of the system is currently underway. Denis Petrov, Chief Engineer of JSC "Omsktransmash", told about this.
Work on the flamethrower system includes not only an increase in the range and accuracy of fire, the modernization will also affect a number of devices and mechanisms, the decision was made taking into account the participation of the Solntsepekov in hostilities in Ukraine. As Petrov explained, within the framework of the NMD, the tactics of using heavy flamethrower systems, originally developed for support, were changed, TOS in Ukraine is increasingly being used at the forefront.
At the moment, work is underway to increase the firing range, its accuracy, as well as to simplify the process of aiming at the target and completing the task. First of all, it is an increase in the area of ​​\uXNUMXb\uXNUMXbdestruction (...) Initially, the vehicle was designed as a support vehicle, however, experience shows that, as a rule, it is at the forefront
- said the chief engineer of Omsktransmash in the program "Military acceptance" at the shopping mall
"Star"
.
The need to modernize heavy flamethrower systems in the Ministry of Defense was announced last year. They explained this by changing the tasks for TOS and the growing range. The upgraded vehicles receive modern digital communications, as well as equipment for a closed data transmission segment, which will allow them to be integrated into automatic control systems (ACS) of the tactical level. In addition, for TOS-1 and TOS-1A it was planned to adapt long-range ammunition from TOS-2 (Tosochki), thereby increasing the range of TOS to 15 km instead of the currently available 6 km.
To date, TOS-1A "Solntsepek" covers an area of ​​​​up to 40 thousand square meters at a distance of up to 6 km with one salvo.