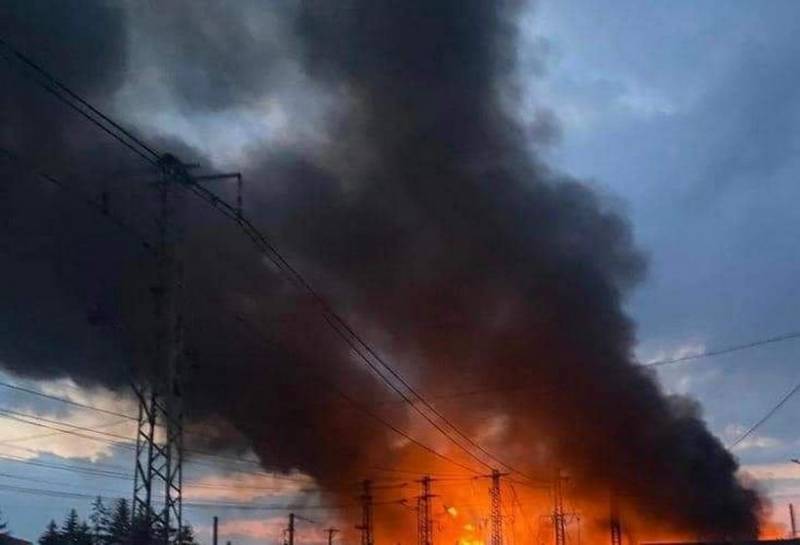 Russian troops continue to strike at the critical infrastructure of Ukraine, over the past day, explosions have thundered in many regions of the country. The "arrivals" are reported by local authorities, as well as by the Ukrainian press.
An air alert throughout Ukraine was announced in the evening. A series of explosions sounded in Kharkov and its environs, local public confirmed that the sounds of arrivals were heard in the city. Nikopol in the Dnepropetrovsk region also came under attack, which is confirmed by the publications of the local press. It is not disclosed which objects were hit, and there is no information about what hits were inflicted, but most likely the Geran-2 kamikaze drones worked on military and energy facilities.
It also flew over Nikolaev, which, to the surprise of the operational command "South" of the Armed Forces of Ukraine, remained in the affected area even after the withdrawal of Russian troops to the right bank of the Dnieper. There are no obstacles for Russian missiles and drones, Ukrainian air defense cannot cope with strikes, although on paper everything is quite the opposite. Arrivals were confirmed in the Cherkasy region, but the governor of this region, Igor Tribunets, said that it was allegedly "working" air defense, shooting down Russian missiles and drones. He did not confirm hits on objects, but he did not refute them either, he simply ignored the question. In the near zone, objects in Artemovsk and Druzhkovka were hit.
Meanwhile, the United States said that the constant attacks of Russian troops on the energy system of Ukraine carry "huge risks", so the Americans will help Kyiv protect critical infrastructure from strikes. In addition, Washington promises to restore everything that "Russia has destroyed."
We are just as determined to help Ukraine protect critical infrastructure and, of course, replace and repair what is damaged.
- said the head of the US State Department, Anthony Blinken.