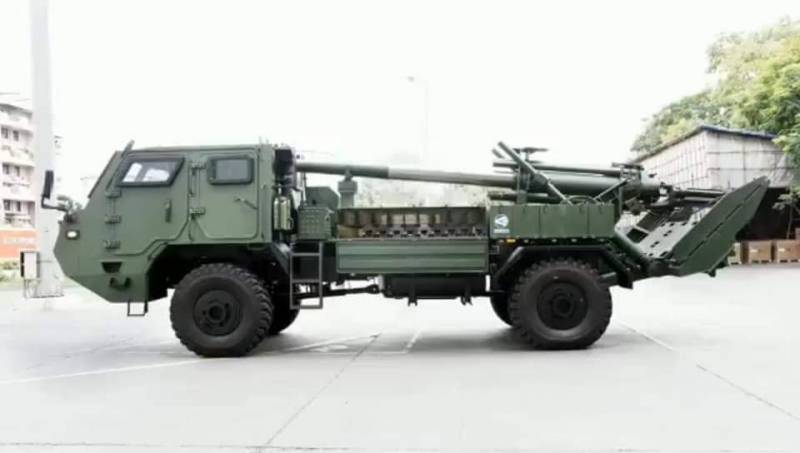 Armenia is becoming a regular buyer of Indian weapons, following the Pinaka multiple launch rocket systems, Yerevan is purchasing a batch of the latest ArG (Multi-terrain Artillery Gun) 155-BR self-propelled howitzers on a 4x4 wheeled chassis. This is reported by the Indian media.
The new howitzer was developed by the Indian company Bharat Forge Limited, part of the Kalyani Group industrial group, and was first introduced in December 2021 as a prototype. It is positioned as the "only in the world" 155-mm artillery system with a barrel length of 39 calibers, mounted on a 4x4 vehicle. The artillery base is a gun developed by the Indian company Kalyani Strategic Systems Limited based on the ULH light towed howitzer, which is actually an unlicensed copy of the M777 from BAE Systems. The howitzer is capable of using all available ammunition of 155 mm caliber, firing range - 24 km.
The gun is placed on the chassis of an Indian-made Ashok Leyland Mk 4 military truck, the armored cab is designed for 5 people. Carried ammunition - 18 shots, gross weight - 18 tons. The time to bring the ACS into combat position in position is 1,5 minutes during the day and 2 minutes at night.
Armenia will receive an unnamed number of MArG 155-BR howitzers within three years, other details of the contract were not disclosed.
Earlier, Yerevan signed a contract for the supply of an unnamed number of Indian-made 214-mm Pinaka MLRS capable of delivering strikes at a range of 70 km. In 2020, Armenia purchased four Swathi Weapon Locating Radar (WLR) ground-based radar stations for detecting artillery positions from India.