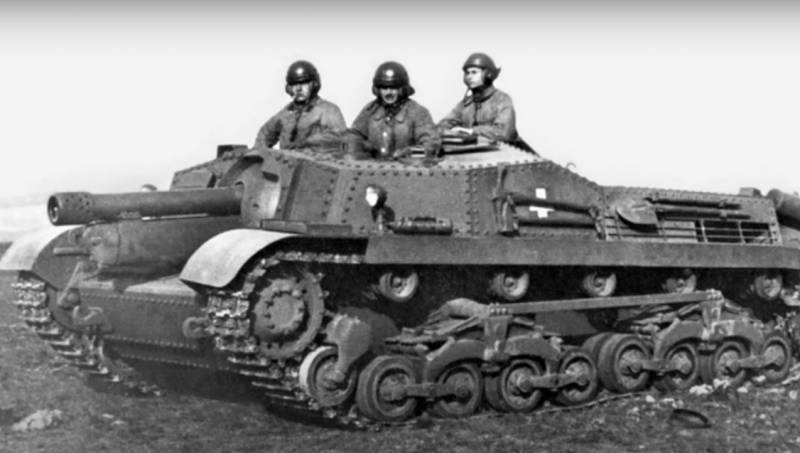 The Zrinyi self-propelled artillery mount is called in many sources the "masterpiece of Hungarian tank building". These guns were among the best in their class, second only to the German ones.
By the way, the successful use by the Wehrmacht of its Shtug guns, the 75-mm gun of which could suppress firing points and destroy fortifications, prompted the development of self-propelled guns by the Hungarians. At the same time, the 50-mm armor of the hull and cabin easily withstood the hit of the "forty-five" (45-mm anti-tank gun).
Already in the fall of 1942, a draft design of a new "self-propelled gun" was ready, and in January 43 the first prototype was assembled.
It is worth noting that Zrinyi was built on the chassis of the Hungarian
tank
"Turan", which caused a lot of indignation on the part of the tankers. The latter protested in every possible way against the serial production of the new self-propelled guns, since the "Turans" were not produced in "commercial" quantities.
However, by the middle of 1944, the Hungarian industry produced 72 self-propelled guns, which stopped their production due to the destruction of the plant.
The assault version of the self-propelled guns "Zrinja-2" or "Zrinja-105" received a riveted hull with a fairly solid wheelhouse armor: forehead - 75 mm, sides and stern - 25 mm, and roof - 13 mm.
The body of the self-propelled guns had lighter armor protection: the lower frontal part - 35 mm, the upper one - 13 mm, the sides - 25 mm.
The weight of the self-propelled guns "Zrinyi" reached 21,5 tons. The engine from "Turan" allowed to reach speeds of up to 43 km / h. The power reserve reached an impressive 280 km at that time.
In the assault version of the self-propelled guns, a 105-mm cannon was used. The ammunition load was 52 rounds.
True, there was also an anti-tank version of the "self-propelled gun", which received a 75-mm gun and was called "Zrinya-1" or "Zrinya-75".
Despite the fact that the Hungarians turned out to be really worthy self-propelled guns, it did not have any serious impact on the course of hostilities. After all, only 72 such guns were produced, despite the fact that initially the Hungarians planned to produce more than 250 self-propelled guns.