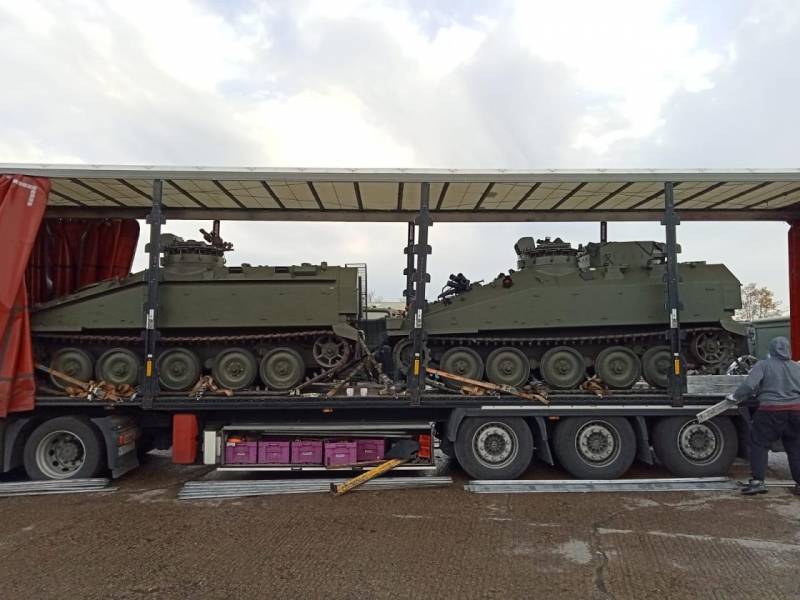 The first batch of British armored vehicles of the CVR (T) Combat Vehicle Reconnaissance (Tracked) family is being prepared for shipment from the UK to Ukraine. Armored vehicles were purchased with funds raised by the fund of the former President of Ukraine Petro Poroshenko.
The batch includes six armored vehicles: FV105 "Sultan" command post and FV103 "Spartan" armored personnel carriers, how many of which are not explained, eight more CVR (T) armored vehicles are waiting to receive licenses for shipment. In total, the ex-president of Ukraine purchased 14 armored vehicles, including FV103 Spartan armored personnel carriers, FV104 Samaritan military ambulances and FV105 Sultan control vehicles. All equipment will be sent to Poland, and from there to Ukraine.
6 armored vehicles out of the total of 14 contracted - assault and reconnaissance Spartan, command Sultan and medical Samaritan - will soon be in the Armed Forces of Ukraine. The other day, we finally received a Ukrainian import license
- Poroshenko declared.
Meanwhile, France promised to expedite the shipment of 155 Caesar 6-mm self-propelled howitzers to Ukraine. This was stated by the Minister of Defense of the Republic Sebastian Lecornu. According to him, Kyiv will receive self-propelled guns in "the coming weeks." Macron promised Zelensky back in early October to hand over a batch of 155-mm Caesar self-propelled guns intended for the Danish army, which should have included from 6 to 12 howitzers. Later it was decided to send a minimum quantity of 6 pieces.
Earlier, the French had already delivered 18 Caesar self-propelled guns to Ukraine from the presence of the French army, after which they flatly refused to give the army howitzers to the Armed Forces of Ukraine.