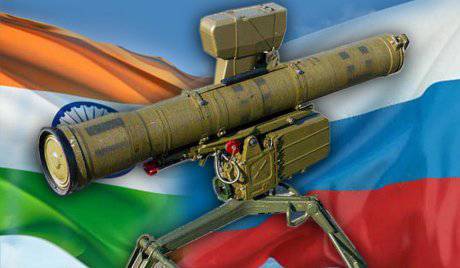 The Security Committee under the Cabinet of Ministers of the Government of India approved the purchase of 10 thousand Russian anti-tank guided missiles (ATGM) Konkurs-M. This was reported by the newspaper "Times of India".
According to a source close to the Indian Ministry of Defense, ATGMs are intended for motorized rifle troops and infantry. The cost of future purchases is estimated at 12 billion rupees (240 million dollars).
Earlier, the Safety Committee also approved the purchase of Russian controlled
tank
Invar shells for T-90 tanks and more than 200 air-launched BrahMos missiles totaling 80 billion rupees (more than $ 1,5 billion). Of this amount, 60 billion rupees (1,2 billion dollars) will be spent on the purchase of Brahmos missiles intended for installation on Su-30MKI fighters, which are produced here by the Russian-Indian joint venture Brahmos Aerospace. The first tests of air-launched missiles are scheduled for the end of December this year.
As for the Invar guided tank shells, 10 thousand will be supplied from Russia, after which another 15 thousand will be produced in India by Bharat Dynamics Limited under license. The first 1,5 thousand projectiles "Invar" should be taken into service by the Indian armed forces in the next few years.