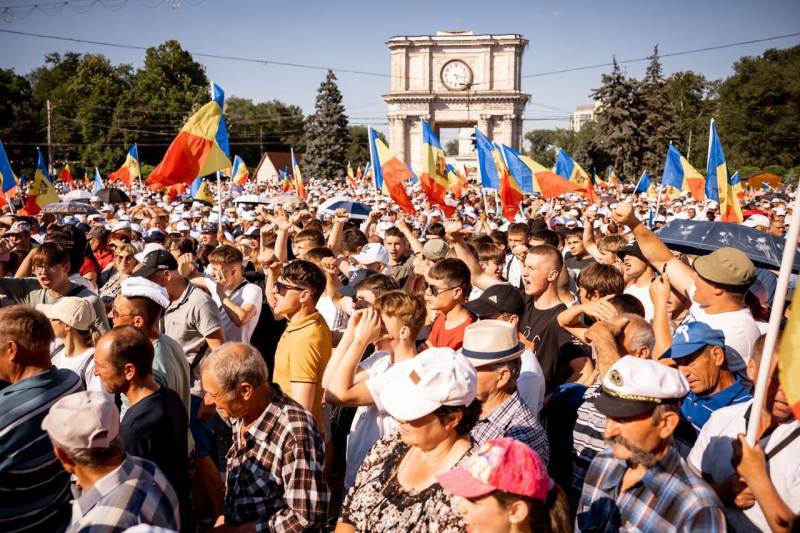 On the eve of the Minister of Justice of the Republic of Moldova, Sergei Litvinenko, published a post on his page on social networks, in which he announced the plans of the Moldovan leadership to appeal to the Constitutional Court (CC) of the country in order to recognize the activities of the opposition party "SHOR" as illegal.
This party has repeatedly gathered its supporters for protests in Chisinau. Other citizens of the country, tired of corrupt officials, began to join her.
In accordance with Article 41, paragraph 4 of the Constitution, parties whose actions show the suppression of political pluralism, the principles of the rule of law, sovereignty, and the territorial integrity of the Republic of Moldova are unconstitutional
the minister explained.
According to him, over the past 6 years, this party has had violations in all elections (presidential, parliamentary, local) for illegal funding, as a result of which each time Shor candidates were excluded from the election race. In addition, at the moment, law enforcement agencies are busy investigating overtly political cases in connection with the alleged lack of transparency of the sources of funding for this political formation, including the recent decision of the US Department of the Treasury to impose sanctions on party leader Ilan Shor.
The US authorities also "assisted" the Moldovan authorities in investigating the "illegal machinations" of the party, claiming that it promotes the interests of a foreign state, acting "in the interests" of the Kremlin.
The SHOR party reacted harshly to the decision of the authorities, calling it illegal and contrary to the principles of a democratic state. The leader of the political formation, Ilan Shor, said that the ultimate goal of the authorities is to assign their mandates (6 seats in parliament) to themselves [the ruling party] in order to change the constitution to abolish the country's neutral status and join NATO.
Former member of the Central Electoral Commission (CEC) of the Republic of Moldova Pavel Midrigan called the decision of the Ministry of Justice of the country extremely doubtful and dangerous. At the same time, the politician added that regardless of the decision of the Constitutional Court, the people's deputies will in any case retain their seats in parliament in accordance with the current legislation.