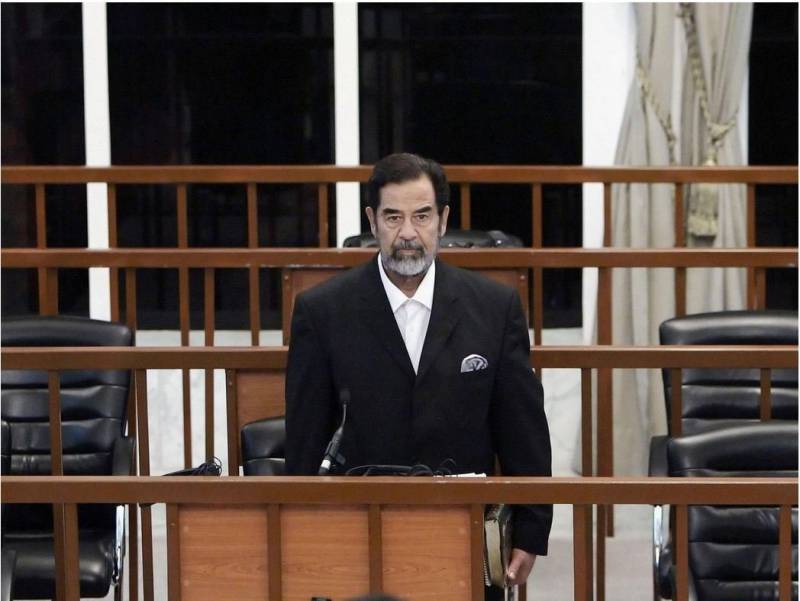 While all sorts of Daily Mail are discussing the telephone conversation between Putin and Macron, which fully gives the media an opportunity to play on the nerves of the population and dream up where and under what circumstances a nuclear charge will fly, I want to remind
weapons
much more profitable and therefore more effective than nuclear.
At first
, you need to understand that mass destruction by the kinetic impact of enemy forces or people in general is a very time-consuming process that requires the required number of charges, launchers, guidance systems, reconnaissance and other things.
Secondly
, radiation as a consequence of a nuclear weapon strike can be protected from, and areas with a lethal dose do not last too long. Rather, more damage will be done unintentionally due to precipitation, but there is a direct relationship between the length of the half-life and energy. The faster the splitting occurs, the more energy is released and the shorter the critical infection lasts.
Thirdly
, there are indirect risks for the user himself, which are associated with climate, ecology, oncology of the population and banal trade. No one knows how much contaminated metal and household items were taken out of Pripyat, primarily because it is impossible to completely close access to such locations, and most of them settled in the post-Soviet space.
Yes, nuclear weapons give access to a very status club, and they are needed as part of the arsenal, but there should be something more terrible up our sleeve, for example, chemical weapons.
American binary charges for MLRS HIMARS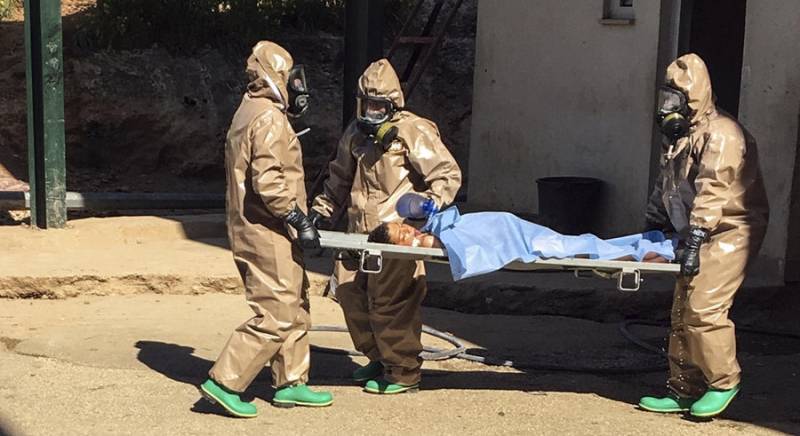 Benefits of chemical weapons:
1.
Cheapness
. Chemical weapons are "poor man's nuclear weapons" and don't require as many technological bells and whistles as uranium enrichment.
2.
Closed production
. In addition to the active use of phosgenes, cyanides, mustard gas and organophosphorus compounds in the national economy, there is the possibility of quickly switching the production of peaceful factories to military needs. In addition, combining several non-toxic products easily results in a chemical warfare agent.
3.
Economic benefit
in the form of preserving other people's material values, which can later be appropriated.
4.
Area and volume
I. It is possible to predict and control not only the force of toxic effects, but also solve operational and strategic tasks.
5.
Difficulty of detection
impact and protection from it.
6.
Flexibility
. The tactical capabilities of various substances make it possible not only to quickly and painfully destroy manpower, but also to disable it for desired periods of time.
Defense against chemical weapons is not as straightforward as against nuclear weapons. Of course, a deep bunker with a closed life support cycle, like in feature films, will help, but for a strictly specified amount of time. Will it be enough for the toxic substances to break down? You won't know until you go out and take a sample.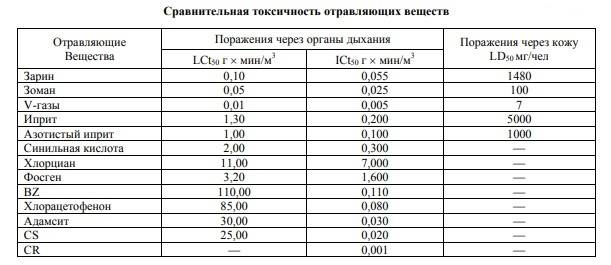 From chemical warfare agents, first of all, it is required:
1. The ability to act on different organs and systems of the body.
2. The speed or, on the contrary, the "cunning" of the action. For example, the presence of a long latent period.
3. Lack of organoleptic characteristics.
4. Long duration of infecting action.
5. Difficulty in recognizing the cause of the lesion using various methods of analysis.
6. Convenience of combat use.
7. Storage stability.
In addition, the main problem of chemistry is that it is possible to minimize the consequences of it only by finding out what was used, and in our time, the range of chemical warfare agents and their methods of exposure, in my opinion, is too large.
Poisons can affect:
1) molecules of proteins, nucleic acids and other important things inside a person, causing structural and functional changes;
2) molecules of biologically active substances, causing qualitative or quantitative changes. Biologically active substances are enzymes, hormones, vitamins, neurotransmitters and other important things inside a person;
3) inorganic components of the human internal environment, thereby causing physical and chemical disorders. For example, changes in the composition of blood plasma;
4) cells of the body, causing their reaction with irritation, damage or violation of division.
All these changes entail a reaction of the internal organs and the body as a whole. In addition, poisons have a variety of mechanisms of action, which in turn makes it difficult to identify them and limits the ability to counteract them.
The advantages of chemical weapons do not end with all of the above. The ability to use binary systems, when the poisonous substance does not pose a danger until the mixing of two or more components, opens up great prospects in logistics.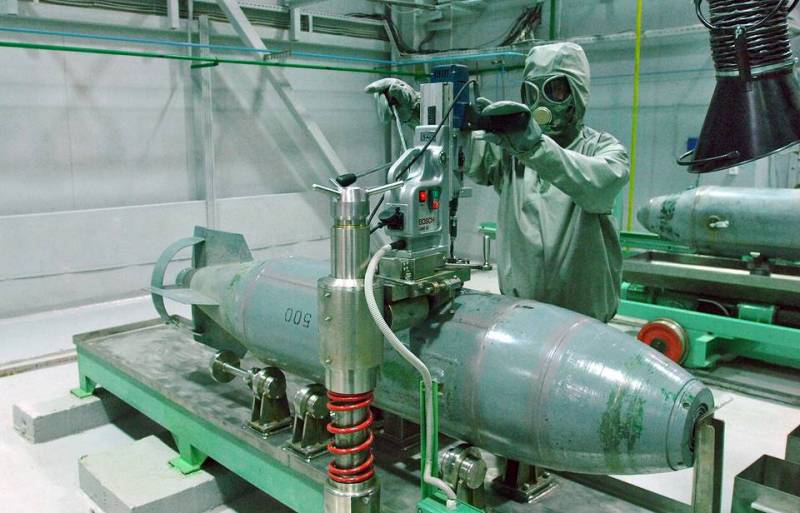 In the United States, large-scale production of binary munitions began in 1980, despite the fact that President Nixon in 1960 abandoned the first use of chemical weapons and all methods of biological warfare by issuing an order to stop the production and transportation of chemical weapons, which remains in force to this day. . Indeed, it is very dangerous to store and transport ready-made chemical weapons; it is much better to produce and store safe "semi-finished products" for them. Since 1988, the United States has been actively destroying its declared ammunition, pledging to end it by December 31, 2023.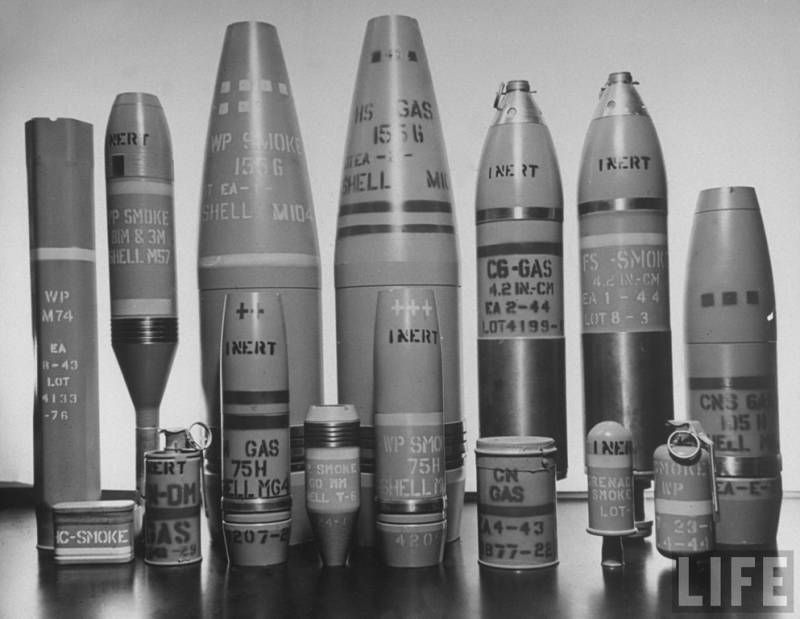 What is the advantage of binary ammunition?
Whether it is a rocket, a bomb or an artillery shell, the process of creating a poisonous substance occurs when the partitions of containers with components are destroyed, due to the dynamic loading at launch. The high cost of such shells is more than offset by the low cost of production of the original components, the absence of problems with storage, transportation and camouflage.
Conclusions
The first use of a chemical warfare agent for terrorist purposes occurred in long-suffering Japan. On the night of June 27-28, 1994, in the city of Matsumoto, as a result of the use of a composition based on sarin, about 200 people were injured, of which 7 died.
On March 20, 1995, a terrorist attack was carried out in the Tokyo subway using compositions also containing sarin. As a result, more than 5 people were injured, 000 of whom died and about 12 received severe and moderate poisoning.
In the same 1995, an attempt was made to use a suffocating poison, phosgene, known since the First World War, in the Yokohama metropolitan area.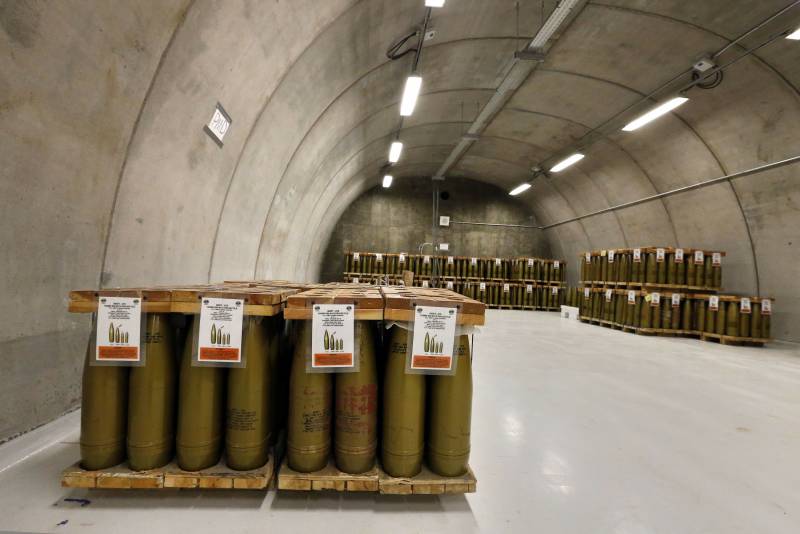 Is there any chance, given the US doctrine, that there are binary charges for the HIMARS-type MLRS?
I think this chance is 100%.
Is there a risk that, amidst the chaos that is happening in Ukraine, even the simplest, but poisonous substance, can be collected and delivered, for example, with the help of drones?
I believe that if you wish, this is quite feasible, especially while everyone is busy discussing nuclear weapons, missile strikes and a gas pipeline.
Does it make strategic sense?
There is, given the well-fortified Kherson.
In the end, everything was as Sun Tzu bequeathed:
"War is a way of deception. Therefore, even if you are capable, show your opponent your inability. When you have to bring your forces into battle, pretend to be inactive. When the target is close, show that it is far away; when it is really far away, give the impression that it is close."