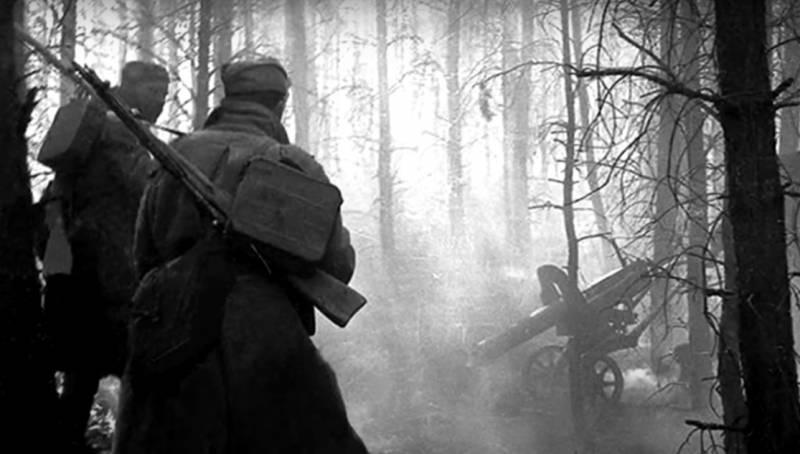 A lot has been said and written about the effectiveness of artillery in the theater of operations. Today, during the NMD in Ukraine, reports are regularly published about the "unwinding" of the enemy by the precise work of our artillerymen.
At the same time, if you have never come under shelling, it is difficult to even imagine what a person feels at this moment.
So, in his memoirs, the Soviet General P.P. Vershigora, who was an active participant in the partisan movement in Ukraine during the Great Patriotic War and led the First Ukrainian Partisan Division, wrote that methodical artillery shelling is more terrible than direct combat with the enemy.
As an example, he cited one of the operations at the beginning of the war, during which he, with his 30 fighters, had to get close to the height occupied by the enemy and knock out the enemy from it.
As the general writes, his detachment began to move when it got dark. The first goal was to gain a foothold in the forest belt, located in close proximity to the aforementioned height.
The forced march was successful, however, as Vershigor recalls, already moving along the landing itself, his detachment attracted the attention of German soldiers, who immediately opened artillery fire on the forest belt.
The Soviet general in his memoirs emphasizes that shelling is much more terrible than a direct collision with the enemy. In the course of the last, the soldier at least sees where the threat comes from.
At the same time, according to Vershigor, shelling seems especially terrible at night.
At night it seems that every projectile is designed for you and it flies exactly at you.
- writes the military.
In turn, the general emphasizes that artillery is an extremely effective tool not only during the offensive, but also to cover the retreat. So, Vershigor described one of the cases when Soviet artillerymen covered the retreat of one of the units of the Red Army.
According to the military, the shells exploded about two hundred meters from the retreating unit, blocking the path to the offensive for the superior units of the Wehrmacht.