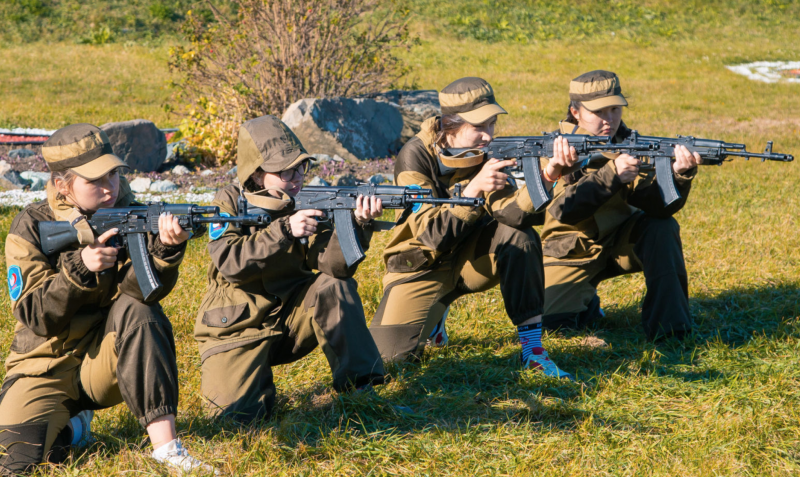 Photo: okean.org
Comparing the Soviet system of pre-army military training of youth with today's one, I would like to ask, were we fundamentally not going to fight at all? I compare, having my own life experience, training of the population and opportunities earlier, during the period of the Great and Proud Country and today.
For children
I grew up in an ordinary provincial town with a population of about 70 at the time. The first time I had a chance to shoot after the 000rd grade, when my family and I sailed on a boat to Ulyanovsk for a tour of Lenin's places. Such excursions were annual, organized by their school, where my mother worked as a teacher. What I liked and remembered most of all - a shooting range at the pier, pneumatics, a distance of 3 meters. Before that, I was not particularly interested in shooting, I thought, having
weapon
in the hands, it is impossible to miss, enemies can be mowed down until the cartridges run out (grew on war films).
I was lured by a friend, 2 years older than me, who had already been to the shooting range, and then it turned out that I didn't hit at all, and therefore my interest quickly disappeared. At this time, adults were passing by, among them my dad. Having learned my problems, he explained the principles of shooting, made sure that I understood, and left for the ship, giving me money for bullets.
The thing went. On this day before sailing, I shot a bullet for more than 3 rubles at a price of 3 kopecks per bullet!
At the end of the summer, my father took me to the school where my mother worked, to the shooting gallery. The military instructor there was Rashid Sofeevich, a man, 45–50 years old. A shooting range is a separate buried structure that allows you to shoot up to 50 meters in pairs. They also let me shoot, but my expectations were not met - another disappointment, however, as before with the air gun, it was primary.
It was 1983, I just turned 10 years old in the fall. I remember at home my dad asked me if I wanted to go shooting, to which I refused. For the first time. I agreed in the fall. Began to walk. I understood the principles of aiming, got used to it. I started getting better results.
For adults
I want to describe the general level of shooting training of adults, whose shooting I observed. My parents were good shots. Not bad, how is it? About 40 or a little over 40 out of 50. Those who shoot know that this is very normal when you are over 40 and your eyesight is far from perfect. These are not athletes, rifles are not individual.
Weapon
Yes, in arms. In the old wooden two-story building of the river school there was a weapons room on the second floor, with bars, with an alarm, there were small-caliber rifles TOZ-8, TOZ-12 (with a diopter sight), whether the magazines were, it seems, they shot a couple of times, but I won't lie , I don't remember, almost 40 years have passed, pistols, I don't remember the brand.
I don't write about what I didn't shoot and couldn't shoot from (training AKs with a drilled barrel, etc.). I was not trained to work with them at that time. I was engaged only in practical shooting from the so-called small things.
The country prepared the Defenders of the Motherland
I came to the school at a certain time, where the shooters gathered, some of whom, with a military instructor, went to the gunsmith to receive weapons and ammunition, I remember how I carried a real firearm or pistol, albeit a small-caliber one, to a shooting gallery located 50 meters from the entrance to this building, how before firing from a pistol, the military instructor drove us to the horizontal bar to pull ourselves up, why, I don't know, like - so that the hand would not tremble.
I didn't shoot well with a pistol, I shot 20-something maximum, but I was from incomplete 10 to 11 years old. But on the other hand, rifles began to turn out well. As a keepsake, Rashid Sofeevich gave me my best result: targets, 2 pieces, 5 + 5 from 25 meters. Of course, one of them does not have 49/50, probably, the mentor calculated with a plus to stimulate me, but how I learned to shoot in a little over a year, you can probably appreciate it, I was only 11 years old, in the end I went to shoot for about one and a half years.
But the most interesting thing is that when I shot well at the Winter Olympics and I was praised at school, some of my classmates wanted to learn how to shoot too. Three or four of us came to the shooting gallery on time (I didn't involve my parents to negotiate), I, very embarrassed, asked Rashid Sofeevich to my friends about the possibility of shooting, and ... he accepted 10-11-year-old boys. True, he later kicked out one, the most frivolous one, but three or four (someone left, someone came), they walked for half a year, and they received skills in shooting and handling weapons.
Above, I wrote that I went for about a year and a half, why so little? Yes, children's uncertainty and the desire for freedom. I quit, like some other before and after, but that's not the point.
How simple everything was: both for the mentor and for the military potential of the country. How did the military instructor unsubscribe for the consumption of cartridges and did he unsubscribe? Did he record us, young children, in some kind of accounting statements, and were there any at all? My father and mother are no longer there to ask if Rashid Sofeevich is still here, but I don't want to disturb him, he is already very old ... if he is here.
I asked the elderly, yes, they say, they didn't oblige at the enterprises, but there were always plenty of people who wanted to shoot, there were no obstacles in this, there were many shooting galleries in the town, and not only with small-caliber weapons.
I remember that when I was a preschooler, my father took me to shoot from combat pistols in the shooting range of a watch factory. I was then only interested in cartridge cases and bullets, but that's not the point. The country trained the Defenders of the Motherland, of course, not at a professional level, but many, and not only men, had the basis of marksmanship and handling of weapons. In the school where my mother worked, women also shot, and sometimes not bad!
The 90s began, and, in my opinion, even from the end of the 80s. Weapons, even training ones, were confiscated, leaving only pneumatics, that is, almost toys.
Today
When writing an article, I ask my sons who graduated from school, did they shoot while studying at school? Not! Yes, disassembly-assembly of AK. A little. But what does the feeling of a weapon mean when shooting, breathing, aiming principles, when even a slight sideways fall of the weapon will mean the bullet is pulled sideways and down, and much, much more.
Most of today's youth, and not only youth, do not know this. In the town there was one more or less normal shooting gallery in the police department, where there is no entrance for an ordinary person, and sometimes there is a shooting gallery with an "air" in the park. Sometimes.
How about in most other small towns? sat down?
Yes, in large cities there are paid (
paid!
) shooting ranges, polygons. But are there, as before, opportunities for the majority of the population to improve shooting skills (learn the basics of marksmanship)?
Military service
Once in a motorized rifle unit, he became a sniper, shot not bad, but only not bad, although in one of my extreme shootings he showed the best result in the battalion among conscripts, of course. But
sniper
did not. Most of the time they didn't do that.