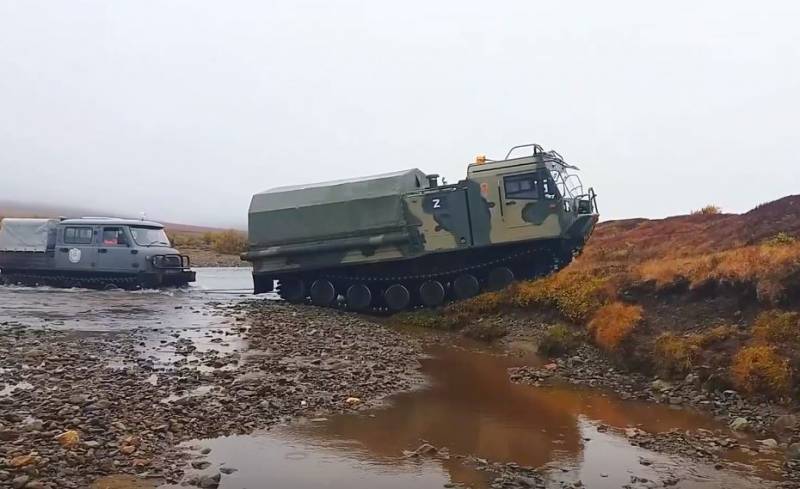 The tracked transporter TM-140 developed by the specialists of Kurganmashzavod was tested as part of the Northern
fleet
Arctic expedition "Umka-2022". This was reported on the company's page in the social network VKontakte.
According to the publication, the expedition, which took place in Chukotka, included three wheeled and two tracked vehicles: a pneumatic all-terrain vehicle, a six-wheeled Burlak, an eight-wheeled Rusak, a Buggy vehicle as a reconnaissance vehicle, as well as a Kurgan TM-140 and " Uzola" - caterpillar UAZ "loaf", developed in Nizhny Novgorod.
As part of the expedition, the column traveled 1100 km through hilly tundra, swamps, rocks, and streams. All stocks, including fuel, were carried by TM-140, the only one with the necessary carrying capacity and body volume. Not everyone reached the finish line, the Buggy and Uzola could not stand it, which had to be towed for the last 250 km. The last obstacle was the Amguema River, which only the TM-140 managed to overcome, because the all-terrain vehicle is floating. The test report was sent to the commander of the Northern Fleet.
The TM140 all-terrain vehicle can carry up to 3,5 tons of cargo on the platform. The machine has a total length of 7,8 m, a width of 3,11 m and a height of 3,1 m. A clearance of about 450 mm is provided, which ensures high cross-country ability on various surfaces. The maximum speed on the highway is 45 km / h. Afloat - 4 km / h, while the movement is carried out by rewinding the tracks. The cruising range with additional tanks is 800 km.
In 2019, plans were announced to create a special off-road vehicle based on the TM-140 for the Russian army, as well as other law enforcement and civilian agencies operating in the Arctic.