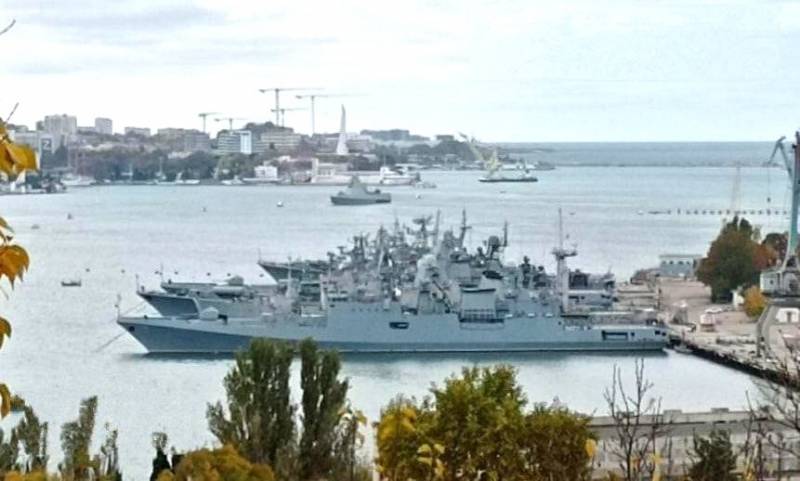 Black Sea frigate
fleet
The Admiral Makarov, allegedly almost destroyed by Ukrainian naval drones during the attack on Sevastopol on Saturday morning, turned out to be completely safe and sound and calmly stands in its parking lot. The footage of the undamaged ship was taken the day after Kyiv's loud statements.
The attack of Ukrainian drones on the ships of the Black Sea Fleet on Saturday, as you know, ended in almost nothing, the minesweeper Ivan Golubets received minor damage, and the bonnet barrier in the South Bay was also damaged. However, Kyiv had to report to its masters about the "successful" attack, so it was announced about "significant damage" to the flagship of the Black Sea Fleet "Admiral Makarov". According to the Ukrainian side, as a result of the attack by Ukrainian drones, both superstructures of the ship were allegedly damaged, radar equipment, fire control systems and communication systems were disabled.
The Russian Ministry of Defense confirmed the damage to the minesweeper, but denied all claims of alleged damage to the frigate, saying that the ship was safe and sound and was in its permanent parking lot. Confirmation of this came the next day, when "Admiral Makarov" was filmed in Sevastopol. Judging by the pictures, there is no damage on it, no repairs are being carried out.
It should be noted that the standard parking of the frigate is not a secret, the ship is clearly visible from many points of the city. The number on the ship has been painted over, since the beginning of the special operation this has been done on all the ships participating in the hostilities, earlier "Admiral Makarov" has repeatedly been photographed and video without numbers. The ship is the flagship of the Black Sea Fleet after the death of the cruiser Moskva.
The frigate "Admiral Makarov" was laid down on February 29, 2012 and launched on September 2, 2015, joined the fleet on December 27, 2017. Named in honor of the Russian naval commander and scientist, Vice Admiral Stepan Osipovich Makarov, it is the second serial ship in a series of patrol ships of project 11356 after the lead Admiral Grigorovich and the first serial Admiral Essen.