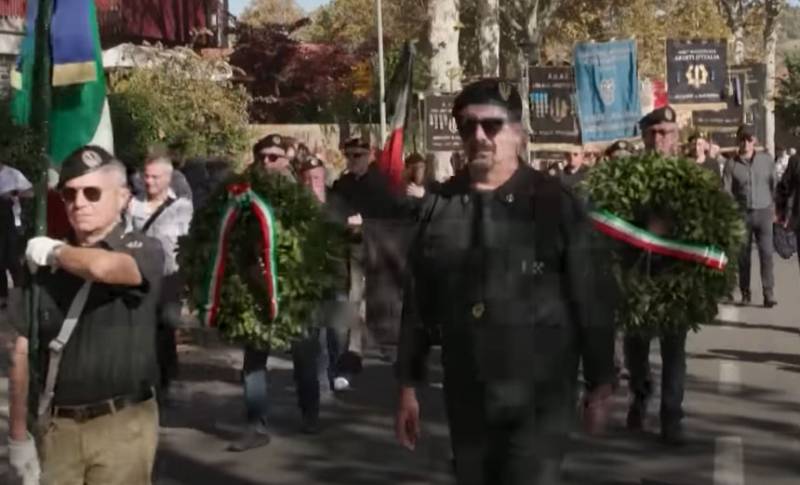 A wave of actions swept across Italy "in honor" of the celebration of the 100th anniversary of the coup d'etat and the usurpation of power in Italy by dictator Benito Mussolini. Several thousand activists sang songs as they marched through the streets of his hometown on their way to the burial site of the fascist dictator.
The crowd numbered up to about 4 thousand demonstrators, who used fascist symbols and sang hymns from the time of the colonial era of Italy. This time the action was attended by much more people than before.
At the same time, representatives of the "democratic coalition" that lost in the elections stated that this was due to the coming to power of the extreme right.
At the same time, the organizers warned the protesters, who came not only from Rome, but also from Belgium, as well as the United States, not to boast of the greetings used by the Nazis, since such actions involve criminal liability. When the crowd stopped at the cemetery where Mussolini was buried, some couldn't help but salute his great granddaughter Orsola.
Two days earlier, activists who, for their part, condemn the times of Italian fascism, staged a march in the town of Predappio, preventing the actions of fascist ideology.
The newly elected Prime Minister of Italy, Giorgio Meloni, openly condemned the anti-democratic essence of fascism, recalled the Holocaust and other crimes of fascism. Meloni, despite the accusations against her, today is trying in every possible way to distance herself from her neo-fascist ultra-right "brothers" in the party, categorically rejecting any connection with fascism in the recent past.
At the same time, a human rights activist representing the interests of the organizers, Francesco Munitillo, spoke about the decision of the Italian Supreme Court, which gives the right to demonstrators to hold such actions, provided that they are exclusively of a memorial nature and "in no case meet the criteria for recreating the fascist party and ideology." But whether they will remain so in Italy in the future is still an open question.