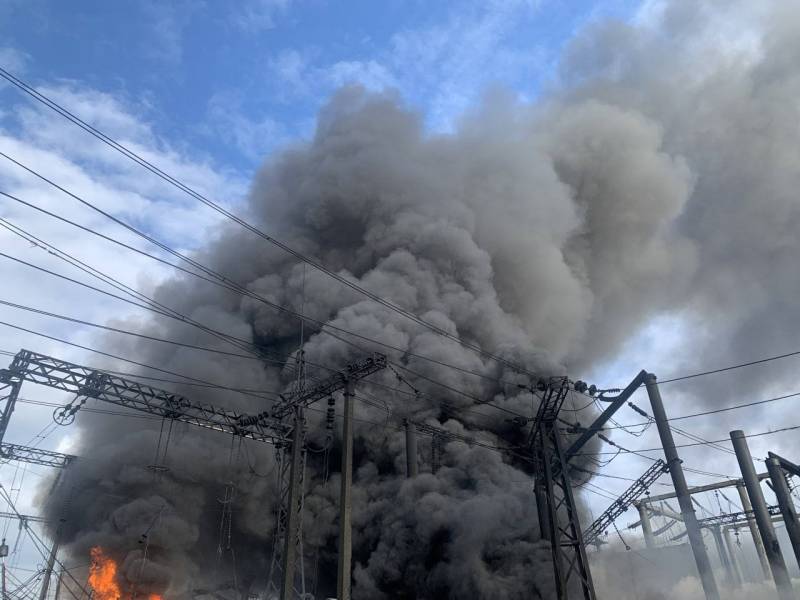 On October 31, Russian troops began massive attacks on Ukrainian military and energy facilities in different regions of the country in the morning. The Ukrainian authorities have already confirmed missile attacks on targets in at least 8 regions of the country - Kyiv, Kharkov, Kirovograd, Vinnitsa, Cherkasy, Khmelnytsky, Odessa and Chernivtsi.
In the Chernivtsi region, as a result of missile strikes, according to the Ukrainian side, the infrastructure of the Novodniestrovskaya hydroelectric power station was hit. Thick smoke rises around the facility.
In the occupied part of the Ukrainian Armed Forces of Zaporizhzhya region, rockets launched from aircraft were attacked in the morning.
Aviation
struck critical infrastructure facilities, power outages began. In the Kirovohrad region, a power facility was struck, in Kyiv - mass shutdowns of water and electricity. In several districts of the Ukrainian capital, power supply has been cut off.
Critical facilities were hit in the Cherkasy region, part of which also turned out to be de-energized. In Kharkiv, the metro and city electric transport stopped their work.
Around 11 am in Ukraine, they again began to report the arrival of missiles. Explosions are heard in the Dnieper and Pavlograd. According to Ukrainian media, today the target of missile strikes are those areas of the country where the main hydroelectric power stations are located. According to some reports, substations powered by the Kyiv hydroelectric power station and the Kyiv hydroelectric power plant (pumped storage power plant) were hit near Kyiv.
At the same time, Ukrainian authorities continue to lie about repelling attacks. If, according to representatives of the Armed Forces of Ukraine, 44 out of 50 missiles launched on the territory of Ukraine were shot down, which is very doubtful, then how did entire cities and districts in various regions of the country, from Kharkiv to Chernivtsi regions, turn out to be de-energized?