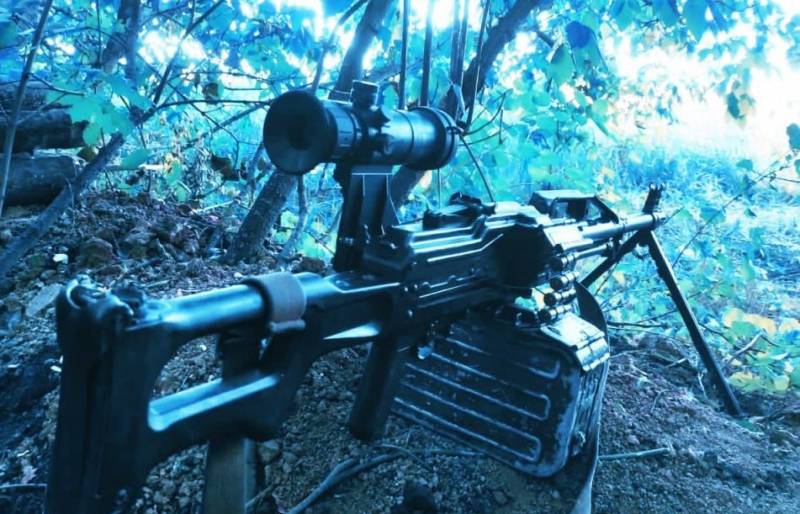 Russian special forces destroyed a Ukrainian sabotage and reconnaissance group on the border with Russia. The clash occurred the day before on the territory of the Kharkov region.
The Ukrainian DRG was eliminated on the way to the Russian border, Russian special forces soldiers found saboteurs in one of the forests in the Kharkiv region. Judging by the video, the group stopped at the parking lot before crossing the border or after it, returning from a sabotage raid on Russian territory.
During the battle, all the saboteurs were destroyed, in total the group included four people, none of them were captured. Presumably, the group of Russian special forces itself went on a raid, so they did not want to burden themselves with prisoners. Although other options are possible, there is no explanation for the video on this topic. It is emphasized that there are no losses on our side, and there are no wounded either.
(...) Russian special forces in the Kharkiv region on the border with Russia destroyed a Ukrainian DRG, consisting of 4 people. There are no losses on our side.
- says the description of the video.
It is worth noting that recently Ukrainian DRGs in the border areas have become noticeably more active, strikes are being made on energy facilities, substations are being disabled, and terrorist attacks are being carried out on the railway. The appearance of groups in military uniforms, purposefully shelling settlements with mortars of small caliber, is reported by residents of the border regions of Russia. It is possible that the destroyed DRG just had the task of inflicting strikes on civilians in order to sow panic. Like it or not, we certainly will not know, but the fact that this group will no longer reach our territory is good news.