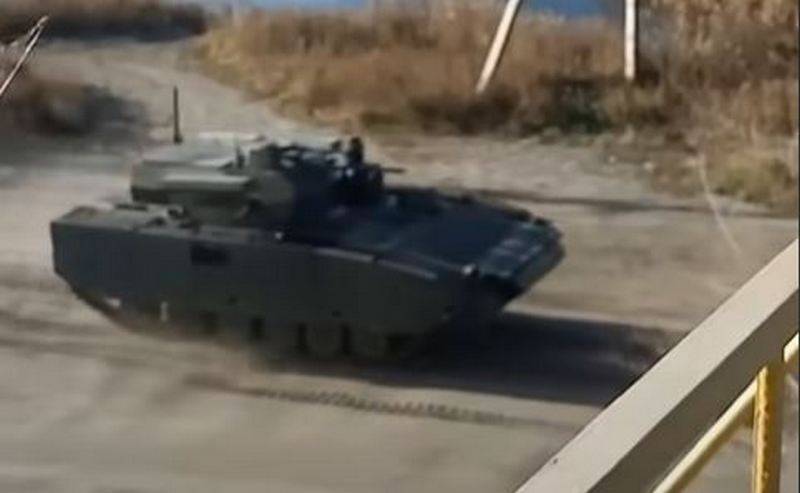 Test footage of an infantry fighting vehicle with the Epoch combat module appeared on the Web. It is assumed that the so-called B-18, better known as the BMP-2 with the Epoch module installed, got on the video.
The Epoch combat module was designed for installation on the promising Kurganets-25 infantry fighting vehicle. However, with the delay in this development, options were made to install this combat module on infantry fighting vehicles already in service. This is how the BMP-2 with the Epoch appeared, the development received the code B-18. There is also an option to install the BM "Epokha" on the BMP-3, which received the code B-19.
If there is almost no information on B-18, except that work is underway, then there is more information on B-19. In 2017, the Ministry of Defense ordered the delivery of an experimental batch of these infantry fighting vehicles with delivery in 2019. In 2021, the B-19 infantry fighting vehicle with the Epoch combat module was used for the first time at the Mulino training ground during the drawing of the main scenario of the West-2021 strategic exercises. The defense episode involved an armored group as part of a BMP B-19 platoon, which was brought into battle according to the scenario to increase the firepower of the defending units.
The Epokha combat module is equipped with a 57-mm automatic cannon, Kornet anti-tank ATGM launchers and a new Bulat missile system with guided small-sized missiles designed to destroy lightly armored vehicles and enemy firing points. In addition, the combat module is equipped with an automatic search and recognition system, as well as target tracking. At the same time, the system assesses the danger of a particular object and issues recommendations to the crew on the use of weapons.
BM "Epokha" B-19 was developed in the Tula Instrument Design Bureau. In the original version, it was equipped with a 30 mm automatic cannon, a 7,62 machine gun and an anti-tank system. In the future, it was decided to replace the weapons complex, primarily guns. Instead of the 30-mm automatic gun 2A42, it was proposed to install an automatic gun of low ballistics LSHO-57.