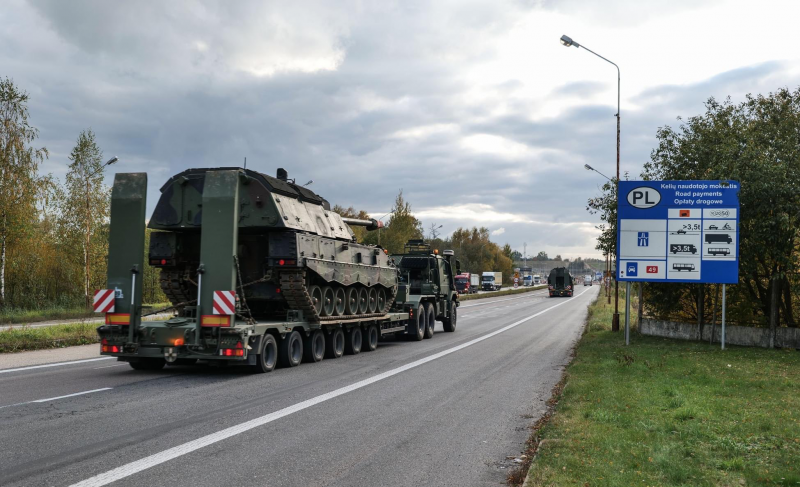 Lithuania has undertaken to repair at its own facilities the self-propelled howitzers Panzerhaubitze 2000, which are in service with the Armed Forces of Ukraine, free of charge. In this way, Vilnius is helping Kyiv fight a "full-scale Russian invasion." As stated in the Ministry of Defense of Lithuania, military assistance to Ukraine should be uninterrupted.
The Lithuanian military department promises to repair 12 self-propelled guns PzH 2000 at the Lithuanian Defense Services (LDS) enterprise, created in June this year by the German companies Rheinmetall and Krauss-Maffei Wegmann in Lithuania. To date, 4 self-propelled guns have been repaired, they have already been sent back to Ukraine , the following two were delivered to Lithuania.
The Ministry of Defense of Lithuania performs a particularly important and necessary mission for Ukraine - it increases the ability of heavy artillery of the Armed Forces of Ukraine to quickly restore its combat capability
- said the Minister of Defense of Lithuania Arvydas Anusauskas.
It is noted that Lithuania is the most active sponsor of the Zelensky regime, having begun to provide assistance long before the start of the special military operation of the Russian army in Ukraine. Moreover, when there is nothing to transfer from weapons, various fundraising is organized in Lithuania for the purchase of drones.
However, recently in this country they began to oppose the constant shipment of weapons to Ukraine. In particular, the commander of the Lithuanian Armed Forces, Valdemaras Rupshis, opposed the transfer of self-propelled howitzers and air defense systems to Kyiv from the presence of the country's Armed Forces. According to him, the Lithuanian army already has few weapons, and the government decides to transfer them to Ukraine, and taking them from active units. The general urged to first purchase new systems, then transfer the old ones. We are talking about PzH 2000 howitzers and the NASAMS air defense system.