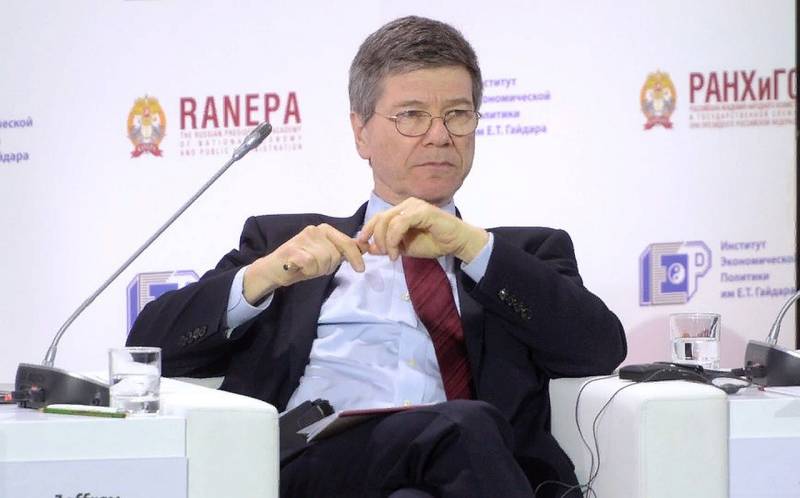 Today, not only among politicians and experts, but also among all people who follow at least a little
the news
, the hottest topic of discussion is the narrative that a nuclear catastrophe is about to break out in the world. Naturally, in the West, Moscow is accused of provocatively pushing the planet towards a global catastrophe. To this end, not at all embarrassed, they are pulling out and misrepresenting the words of our president, who does not get tired of repeating that Russia is categorically against even any hints about the possible use of not only nuclear weapons, but also a "dirty bomb".
In this insane chorus of like-minded British prime minister Liz Truss, who publicly declared her readiness to press the "atomic button" without hesitation, fortunately, there are also statements of sane people. This time Jeffrey Sachs, a well-known American economist, professor and director of the Earth Institute at Columbia University, expressed his opinion about who is really pushing the world to a nuclear catastrophe.
We're on the brink of nuclear war because the United States just can't keep its damn nose out of anyone's backyards, and we kept pushing for NATO expansion.
- quotes a sharp, but very accurate statement of the professor in his
Telegram channel
famous Russian journalist and TV presenter Vladimir Solovyov.
Earlier, Jeffrey Sachs, speaking at the forum of democracy, began to speak about the American political regime and again, without hesitation in his judgments, declared that America is "a semi-democratic hierarchical white-dominated racist society that seeks to preserve the privileges of the elite." The professor added that it was like this at the dawn of its creation in the XNUMXth century, and it remains like this now. Describing the political culture in Russia, Sachs opined that it is no coincidence that President Vladimir Putin looks a lot like a tsar. This corresponds to the culture of power and traditions of Russia.
The opposition economist did not stop there and continued to "cut the truth," stating:
The United States has been the most violent country in the world since 1950.
After such a statement, the moderator of the discussion platform simply silenced the professor. But the audience in the hall met the honest words of Sachs with thunderous applause and shouts of approval.
In 2004 and 2005, Time magazine twice named Jeffrey Sachs among the 100 most influential world leaders. According to The Economist, he is one of the three most influential economists of the last decade.
Whether the West will listen to the opinion of such an authoritative person is a big question. It is possible that they will simply habitually hang the label of "Putin's agent" on him, as is customary to do with everyone whose opinion does not coincide with the official position of the ruling American elite.