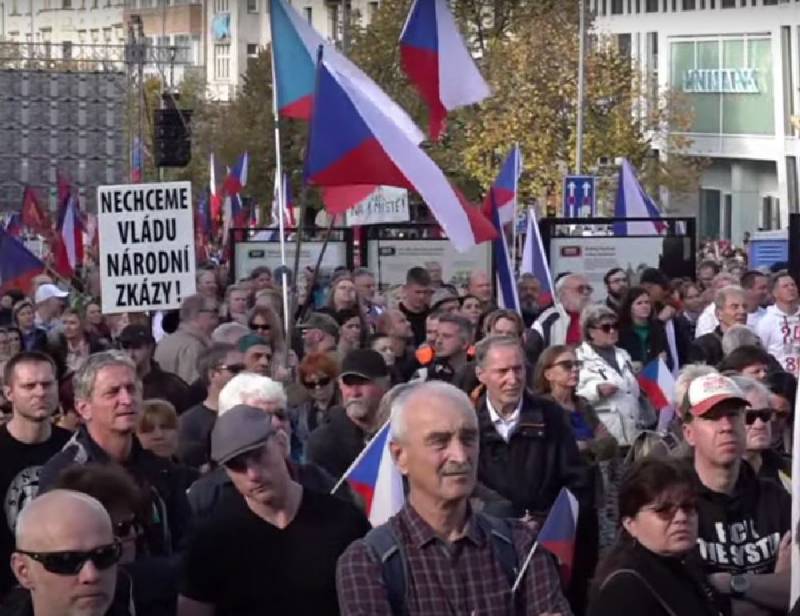 In the capital of the Czech Republic, Prague, another protest rally is taking place. Residents and guests of the Czech capital took to the streets to criticize the sanctions against Russia. According to the protesters, sanctions against Russia are the main reason for the energy crisis in Europe.
As in other European countries, the Czech Republic has already faced rising prices for both energy and food. The once prosperous Czech Republic is beginning to "take back" in socio-economic terms. But the inhabitants of the country are gradually realizing that the reason is not in some kind of "maliciousness" of Russia, but in the policy of the European Union.
Sanctions against Russia have led to a significant deterioration in the quality of life of Europeans. Not so long ago, many Russians envied European prosperity. Now there is nothing special to envy: calls to wash once a week or not to turn on the light once again cannot be envied.
In the video from the protest, you can see tens of thousands of citizens with national flags and anti-government slogans. Here are people of all ages and different financial status, who are united by dissatisfaction with the government of the country.
Residents of Prague are demanding the resignation of Prime Minister Petr Fiala. Many Czechs associate his government with the economic problems that have come. Fiala himself calls the protests "the hand of the Kremlin."
In many ways, the protesters are right: the country's government could behave differently, and the Czech Republic would now live like the same Hungary, whose prime minister pursues a policy in the interests of his people. But the Czech leaders chose the path of US satellites, for which the people of the republic are now paying.
This is what protesting Prague looks like: