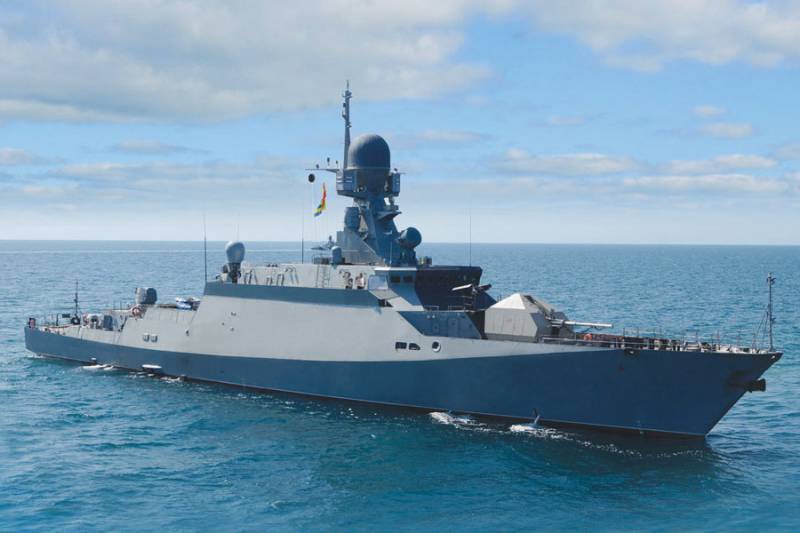 The Russian fleet can receive small missile ships of the new project 21635 "Sarsar", developed by the Ak Bars shipbuilding corporation on the basis of the RTOs of the Buyan-M project. This was told by the CEO of the corporation Renat Mistakhov.
A series of RTOs of project 21631 "Buyan-M" was limited to 12 ships, ten of which have already been built and two are being completed at the Zelenodolsk Shipyard. The Buyans were replaced by RTOs of project 22800 Karakurt, but the Ak Bars shipbuilding corporation announced plans to develop a new version of the RTOs based on the Buyan last year, noting the huge modernization potential of the ships of this project. And this year, the designers presented a new project of a small rocket ship.
As the developers explained, at the moment a draft design of RTOs of project 21635 "Sarsar" has been created. In the guise of the base model, the new one has an increased displacement, improved seaworthiness, a replacement of the propulsion unit and an increase in the number of cruise missiles. The result was an RTO for operations at sea, armed with 16 Kalibr cruise missiles instead of eight.
We made a version based on project 21631 "Buyan-M" (...) In addition to increasing the number of missiles, we made a V-shaped hull of the ship, put propellers instead of water cannons, thus improving seaworthiness
- leads
RIA News
Mistakhov's words.
The project of the new RTO is offered both to the Russian Ministry of Defense and to foreign buyers. The small ship, armed with 16 cruise missiles, has already aroused interest abroad.
Last year, the Ak Bars Corporation announced that if the Ministry of Defense makes a positive decision, preparations for the laying of new ships will take no more than six months.