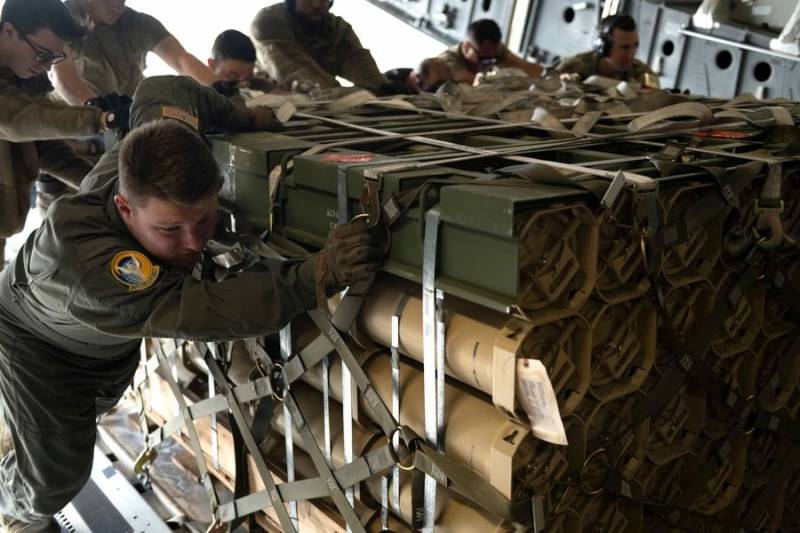 Ukraine too quickly consumes very expensive shells for MLRS HIMARS, in addition, part of the ammunition is destroyed by the Russian army with high-precision missiles, which leads to their shortage. The United States cannot leave Zelenskiy's puppet regime without much-needed ammunition, which is why they are included in almost every military aid package. Today, the Biden administration will announce the allocation of funds for the next military aid.
The Pentagon decided to replenish the arsenals of Kyiv, forming a new package of military assistance from almost nothing but ammunition. According to the American agency Associated Press, which refers to sources in the White House, a decision has been made to allocate shells to Kyiv in the amount of $275 million. Artillery shells will be sent to Ukraine, and most importantly, a new batch of ammunition for the HIMARS MLRS. It is possible that some other items of equipment type will be included in the package, but their number will be insignificant. Also, this assistance will not include large weapons systems.
The new aid is expected to be officially announced today.
Meanwhile, the commander of the Lithuanian Armed Forces, Valdemaras Rupshis, opposed sending self-propelled howitzers and air defense systems to Ukraine from the presence of the Lithuanian army. According to him, the Lithuanian army already has few weapons, and the government decides to transfer them to Ukraine, taking from the presence of the army. The general urged to first purchase new systems, then transfer the old ones. We are talking about PzH 2000 howitzers and the NASAMS air defense system.
After the commander's speech, seven off-road vehicles were sent to Ukraine instead of howitzers and air defense systems, but in Kyiv they were delighted with such an "equivalent" replacement.