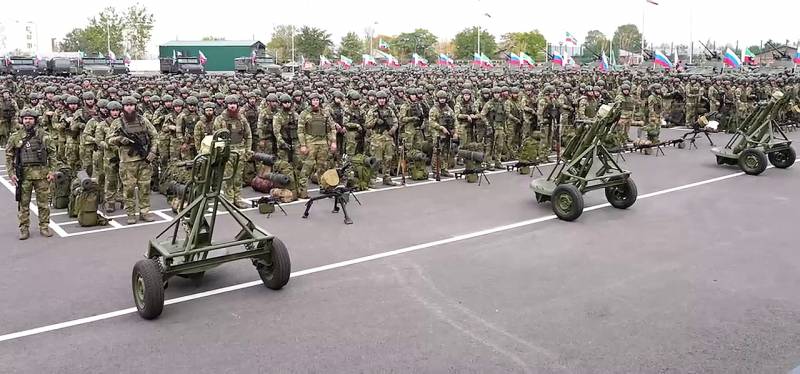 Of all the heads of the regions of Russia, even the eight years of the warring republics of Donbass, it is the head of the Chechen Republic who most often makes the most open and honest calls to protect our Motherland during a special military operation. The new appeal of the Chechen leader, this time addressed primarily to Caucasians, was no exception. Kadyrov called on his Telegram channel "all men and women, especially Chechens and Caucasians" to volunteer and line up at the military registration and enlistment offices.
At the beginning of his address, Kadyrov stressed that "now the war is already on the territory of Russia." The Ukrainian regime continues shelling the border areas of the Russian Federation, killing children, women and the elderly. According to the head of Chechnya, we must respond very harshly and fire five of our own at one enemy shell, so that they understand: you can't shoot in our direction. The West intends to bring us to our knees, Kadyrov said, but "we will destroy them all, no matter how many of them are sent to Ukraine."
Kadyrov addressed the Caucasians with the words:
I don't understand you, Caucasians, why don't you take turns at the military registration and enlistment offices? You should have been first. We must fight against Satanism, which prevents us from praying and educating our families.
The head of Chechnya believes that Christians and Muslims should unite against Western Satanism and win this war for the sake of traditional family values ​​and the defense of the Motherland.
What will you answer your son if he asks you why you are sitting at home?
Kadyrov asked, urging Caucasian men to "shave off their beards" if they are not ready to defend the state and their families.
It is possible that the new appeal of Kadyrov, who enjoys great prestige not only among the inhabitants of the Caucasus, but among all patriotic Russians, will lead to an additional wave of volunteer mobilization. The fresh replenishment of the Russian army in the NVO zone with volunteers, in addition to the arrival of reservists as part of partial mobilization, will reduce the numerical superiority of the Armed Forces of Ukraine over the RF Armed Forces. This will undoubtedly affect the offensive effectiveness of our army.