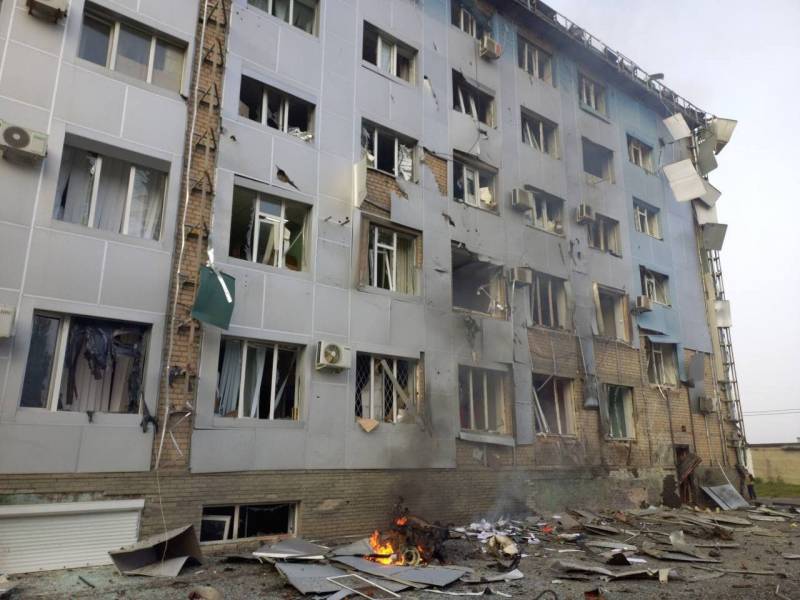 Ukrainian sabotage groups continue terror in the liberated territories, another terrorist act occurred in the city of Melitopol - the temporary capital of the Zaporozhye region of Russia.
In Melitopol, a car was blown up, parked next to the building of the Zaporozhye regional television company ZaTV. According to preliminary information, the power of an improvised explosive device was 1,5 - 2 kg in TNT equivalent. As a result of the explosion, the car was destroyed, the facade of the building was damaged, and the glass in the windows was shattered. There is no information about the dead, there are two slightly injured employees of the TV company, and passers-by also received minor injuries.
Five people, including employees of the ZaTV television company and civilians, were injured in an explosion in Melitopol, a car parked near the building was blown up. Television center premises damaged
- Vladimir Rogov, a member of the regional administration, wrote in his TG channel.
Currently, emergency services and law enforcement officers are working at the scene of the explosion, all the circumstances of the incident are being established.
The TV company itself claims that behind the terrorist act of the Ukrainian special services is an attempt to intimidate ZaTV employees who tell the whole truth about what is happening in Ukraine. Someone in Kyiv does not like the truth, so an attempt was made to "shut up" the TV company.
At the same time, it is noted that Ukrainian DRGs and agents have recently become more active on the territory of the Zaporozhye and Kherson regions, and have begun active preparations for a "meeting of the returning Ukraine."