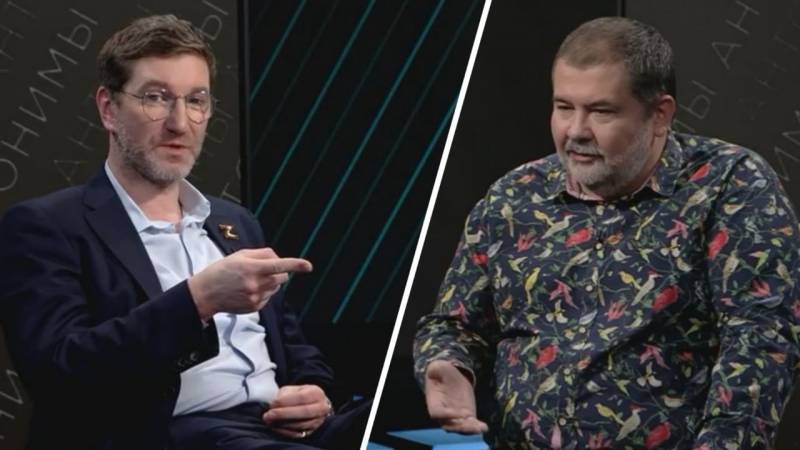 In vain Lukyanenko is an intellectual here. I could give a face. Source: medialeaks.ru
He's really embarrassed
History
and the logic of Anton Krasovsky's behavior is very unpretentious. This, if I may say so, the journalist in the author's program "Antonyms" on October 20, expressed himself as specifically as possible about the fate of Ukrainian children:
"But it was necessary to drown such people in Tysyn (local river)! Right there, where plive kacha (Ukrainian folk song). Here it is direct to drown these children, to drown! Right in Tysyn... This is our method. He said that "the Muscovites occupied" - and immediately you throw it straight into the river with a turbulent current .... And each, therefore, the hut is called "Smerekova hut." And straight into this "Smerekov's hut" to hammer and burn straight.
Krasovsky's fascist stream of consciousness was evoked by the memories of the program's guest, science fiction writer Sergei Lukyanenko. The author of "Night Watch" told how he, being a 12-year-old schoolboy, was treated for asthma in the early 80s in Transcarpathia. And the local guys, most of them quite Russian-speaking, spoke very unflatteringly about the "Muscovites". Say, if it were not for the Soviet Union, then Western Ukraine would now live like Europe. Surely, Lukyanenko also softened the story - the boys were clearly not shy in expressions, maybe they also backed up their theses with their fists.
Be that as it may, this precedent touched the host of the program Anton Krasovsky to the depths of his soul. And he, in the best traditions of the German Sonderkommandos, proposed a final solution to this issue. Drown in the local river and burn their pine oak in the houses. When you first view the recording of this content, it seems that you got on the channel of the Ukrainian Nazis. But no, it's hard to make a mistake - on the screen is the right hand of Margarita Simonyan, director of Russian-language broadcasting Krasovsky. Only he is likened to such personalities as Druzenko, who in March of this year called for the castration of Russian prisoners of war. Or why is Krasovsky better than Fakhrudin Sharafmal, who quoted Adolf Eichmann live and called for Russian genocide?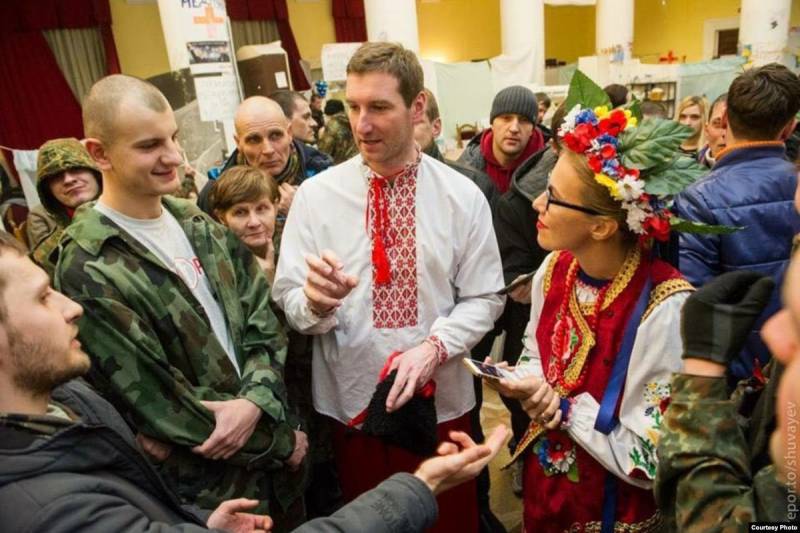 There are such cases in the muddy biography of Krasovsky. Source: politnavigator.net
Lukyanenko looked weak in this story. With all due respect to Mr. Krasovsky, he should have stood up and punched this provocateur in the mouth. But instead, the audience heard unintelligibly:
"This is not our method… This is extremism… We should have whipped them"
. And everything like that until the very end of Krasovsky's vile tirade. After the interview, the writer talked about his disapproval of the host's actions and his "provocativeness". However, Anton's words have already flown out of his mouth, YouTube has recorded everything, and Bandera's propagandists have taken a long vacation. Because Mr. Krasovsky, at the expense of the Russian budget, worked for several months in advance in favor of the CIPSO.
Now specialists do not need to invent anything, it is enough to play a motivational video with Krasovsky's talking head to motivate the most doubtful Banderite. Look, the second person in Russian Today calls for the killing of Ukrainian children in the 80s, when the Soviet Union was a single country. What will they do with our children when we have been apart for thirty years? Will they be eaten alive? Approximately such a bone was thrown by Krasovsky to nationalist propaganda in Ukraine. Of course, the words of the presenter will be eagerly picked up by Western tabloids, forever leaving themselves such a tasty argument as an anti-Russian flag. At any opportunity, reminding us of what Russia has brought open gays to - they are ready to drown and burn children out of hopelessness. For reference, Krasovsky made his coming out back in 2013, and four years later announced his HIV-positive status.
Now about how Krasovsky justifies himself and asks for forgiveness. In my telegram channel, of course, it's scary to apologize to the camera live:
"Listen, I'm really embarrassed that I somehow didn't see this border. About children. Well, it happens like this: you sit on the air, you are carried. And you can't stop. I apologize to everyone who was stunned by this. I apologize to Margarita, to everyone for whom this seemed wild, unthinkable and insurmountable. I hope you will forgive me."
And a little later the second:
"I am grateful to many of my comrades for their support. I am sincerely grateful. Thank you. This does not change the fact that I really insulted and framed many of my comrades. My company. My people. Forgive me. Well, and most importantly: it was just tasteless. I have always I tried to be a little smarter than myself, but it didn't work out"
. From such apologies, to be honest, nauseated. It would be better to be silent. And most importantly, the posts appeared four days after the ill-fated broadcast, when Margarita Simonyan defiantly fired the detonater from Russia Today.
Krasovsky must have difficulties
What extremes do we get. One part of the public is tearing up their passports, leaving Russia, ashamed of their nationality. These show the West that there are "normal" people among us, that we are not all saber-toothed orcs. We surprisingly learned to forgive this category of Russian citizens. But then people like Krasovsky come out, openly discrediting Russia, Russian soldiers and the very essence of the special operation. In Berlin, in Treptow Park, there is the famous sculpture "Warrior-Liberator" - no one needs to be reminded of what it is and what it symbolizes. A Russian man has absorbed the inviolability of a child's life with his mother's milk. Even if it is the child of the most recent enemy. We will save, wrest from the clutches of Nazism and raise a real person. Krasovsky is not like that - he needs a lot of blood and a lot of hype. Why did he say this on the air of Antonymov?
When a person carries a thirst for violence for many months (or years), it will eventually eclipse everything around. It had already happened before, when he called for the drowning of supporters of the St. Petersburg opposition in the Moika. And opponents of vaccination in general, according to Krasovsky, should be put up against the wall under
weapons
volleys. Are these people running state TV channels and shaping public opinion? We remind you once again, at the expense of Russian taxpayers. Krasovsky felt for a long time that threshold of pain sensitivity, within which nothing would happen to him. And only the bonus from the leadership shines. The director of Russian-language broadcasting has never been punched in the nose for calls to drown in the Moika and shoot anti-vaxxers. And then Lukyanenko threw such a tasty reason! In the Universe of Krasovsky, the stars aligned as they should - the children of Transcarpathia in the 80s now grew up and, perhaps, make important decisions in Nazi Ukraine. Now, if then the future Banderaites were melted down and turned into smoking firebrands, there would be no Maidan and the current situation. Eyes filled with blood, mouth began to speak ... Curtain. "Antonyms".
The special operation, of course, raised the threshold of pain sensitivity. Now we can easily perceive the horrors of the past - isolation, masks, ventilators, covid mortality. But Krasovsky was mistaken - a Russian person will never slide down to justifying the murder of children. Let at least ten special operations happen.
Margarita Simonyan, of course, did a good job of sending Krasovsky away from Russian Today. And the Investigative Committee initiated a check of the words of the host of "Antonyms". However, the question remained - why was this provocateur tolerated earlier? Didn't he give signals in private conversations and at editorial meetings? And we have many such Antonovs. Inflaming ethnic hatred in pursuit of cheap hype, they simply help the enemy. Bandera, in turn, richly flavoring such expressions with their comments, are turning Ukraine against Russia. And for this, Krasovsky's punishment should be multiplied by two.