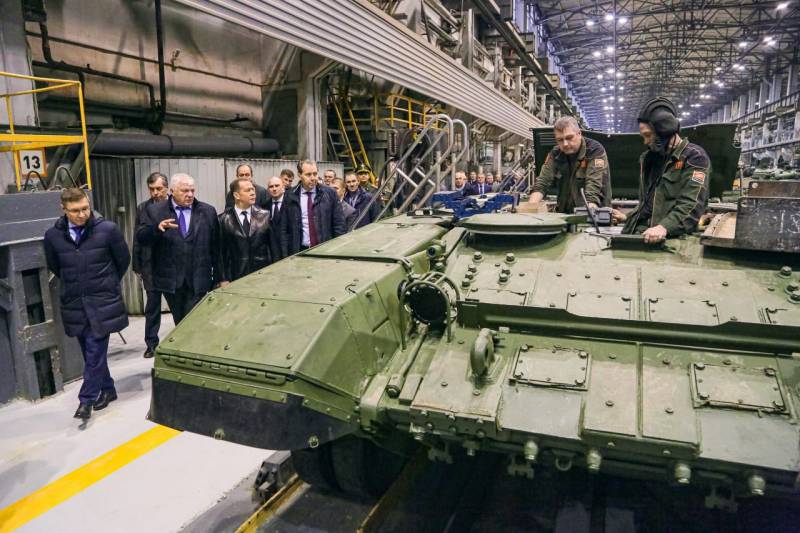 The Russian military-industrial complex has significantly increased the production of weapons and special equipment in all areas, enterprises are switching to an enhanced mode of operation.
Deputy head of the Security Council of Russia Dmitry Medvedev controlled the production of military equipment by visiting Uralvagonzavod. Together with the general director of the UVZ concern Alexander Potapov, he inspected the workshops of the enterprise, including the main
tank
conveyor, where the assembly of T-90M and T-72B3M tanks is currently underway. As Medvedev noted, the production of equipment has increased manifold. He turned to Western opponents, who constantly claim that Russia is allegedly running out of weapons and missiles, and advised him to "wait for these missiles" that will arrive at them under their own power.
Reading enemy analytics, I have repeatedly come across statements that military equipment and weapons in demand in Russia will soon run out. It's like they've wasted everything. Don't hope
- said Medvedev.
Medvedev also held a meeting in Nizhny Tagil with the leadership of UVZ, at which they discussed the issues of accelerating the supply of equipment to the troops for use in the course of the NMD, the task was set to prevent disruptions in the supply of manufactured equipment.
Earlier it was reported that some enterprises of the Russian military-industrial complex switched to work in three shifts to fulfill the state defense order. At the same time, the Ministry of Defense, commenting on Kyiv's statements about allegedly running out of ammunition from the Russian army, noted that there would be enough shells and missiles to "conquer Europe three times."
Meanwhile, there has been a significant increase in the number of trains with military equipment moving towards the special operation zone.