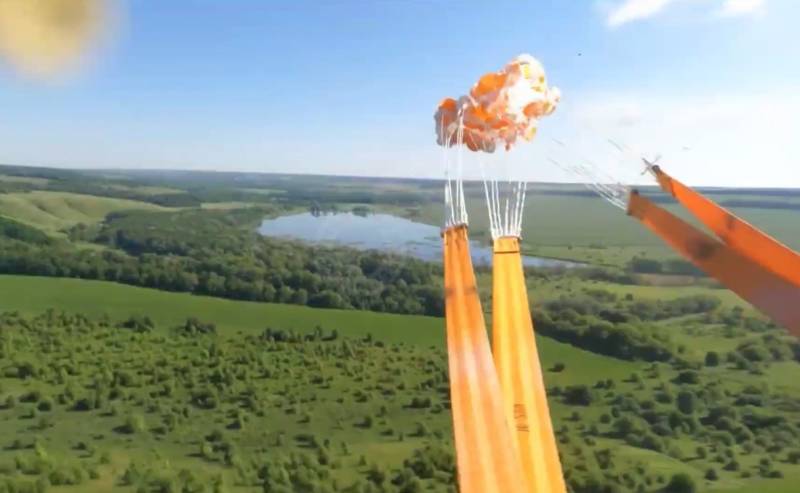 A video of the ejection of the pilot of the Su-25 attack aircraft, filmed from the first person, appeared on the Web. Judging by the video, the events take place somewhere in Ukraine in the summer as part of a special military operation.
The video shows the flight of an attack aircraft, then the ejection of the pilot and landing on the field. A second attack aircraft flies in the sky, after which a radio request follows, to which the pilot replies: "Bro, everything is fine, yes, yes, I'm watching!" In the area of ​​​​the forest belt there is a column of smoke from a fallen plane.
The description for the video says that if you hear one of the following expressions somewhere in the smoking room, namely: "Pull the handles", "Pull the eggs", "Go overboard", "Pull the handles", "Go out into the fresh air ", "Go outside" or "Exit the office", then this means the ejection of the pilot.
(...) That's how it all happens. Fast. And if you don't have time to unscrew your watch before going out, then you should at least have time to whisper "This is the best job in the world!" Preferably after landing
- writes the author of the Fighterbomber channel.
The video is also being actively discussed on Ukrainian resources, where it passes as "ejection of a Russian pilot shot down by Ukrainian air defense." It is reported that a Russian Su-25SM attack aircraft with the number 09 red was hit by an anti-aircraft missile. Presumably, the rocket hit the tail section of the aircraft, after which it lost control and fell into a tailspin, the pilot ejected from a height of about 200 meters, which is quite dangerous for leaving the aircraft.